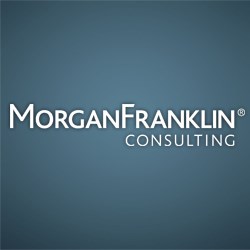 We understand the rigorous processes and lasting effects associated with Valuation Services. Businesses are under pressure to deliver results that support strategic decision-making and hold up to scrutiny.
McLean, Virginia (PRWEB) November 14, 2013
MorganFranklin Consulting, a leading business consulting and technology solutions company based in McLean, Va., and London, today announced the launch of its Valuation Services line of business. Led by Gary Korn, Director of Valuation Services, the team will focus on providing a full range of valuation services to meet the needs of corporations, private equity firms, banks, investors, attorneys, and individuals.
"Valuation has become an increasingly sophisticated process that requires a combination of quantitative and qualitative analysis, sound judgment, and integrity. MorganFranklin Consulting provides clients with the experience and expertise required to establish a conclusion that is both reasonable and supportable," said Korn, who joined MorganFranklin Consulting in September.
The addition of Valuation Services will enable the international consultancy to offer an expanded suite of Accounting and Transaction Services solutions to clients across various industries. The solutions span four primary areas of specialization:

Transaction Advisory & Investment Analysis—Mergers and acquisitions (M&A), lender financing enterprise valuations, transaction pricing, business modeling and forecasting
Equity Incentive Plans & Tax—Internal Revenue Code (IRC) Section 409A valuations, gift and estate tax valuations
Financial Reporting & Strategic Planning—Purchase price allocation intangible asset valuations (ASC 805), enterprise and common stock valuations, private equity portfolio company valuations, impairment testing (ASC 350), analysis of long-lived assets (ASC 360), accounting for stock-based compensation (ASC 718)
Restructuring Valuation Services—Bankruptcy and reorganization, fresh-start accounting
Under the new business line, MorganFranklin Consulting will perform valuations of businesses, business ownership interests, debt and equity securities, and intangible assets for industries including: business-to-business (B2B) services, consumer products and retail, government contracting, energy, financial services, food and beverage, health care, manufacturing, technology, telecommunications, transportation and logistics, and lodging, leisure, and hospitality.
"We understand the rigorous processes and lasting effects associated with Valuation Services. Businesses are under pressure to deliver results that support strategic decision-making and hold up to scrutiny from key internal and external stakeholders and regulatory agencies," said Sean Turner, Managing Director and Accounting & Transaction Services Lead at MorganFranklin Consulting. "We are excited to add Valuation Services to our growing repertoire of offerings and to welcome Gary Korn to our team. Gary's track record and experience in everything from intangible asset valuations to equity, debt, and stock options will add measurable value for our clients across all industries."
Korn brings more than 15 years of experience performing business enterprise and intangible asset valuations for the purposes of bankruptcy and restructuring, financial reporting, impairment analysis, purchase price allocation, mergers and acquisitions, tax, litigation support, and fairness and solvency opinions. He is a graduate of the United States Naval Academy and holds the Chartered Financial Analyst (CFA) designation from the CFA Institute, as well as a Certification in Distressed Business Valuation (CDBV) from the Association of Insolvency and Restructuring Advisors. Before joining MorganFranklin Consulting, Korn spent more than six years with a national business valuation firm in San Francisco and nearly nine years serving as a Director of Valuation & Financial Advisory Services at a large global consulting firm in Washington, D.C.
To learn more about MorganFranklin's Valuation Services capabilities and experience, visit http://www.morganfranklin.com/ValuationServices.
About MorganFranklin Consulting
MorganFranklin Consulting is an international services firm that delivers business consulting and technology solutions to public companies, fast-growing private companies, and government clients. Since 1998, MorganFranklin professionals have provided business operations, financial advisory, and IT consulting expertise and assistance across a wide range of industries. The firm's solutions focus on helping clients develop and implement strategies and plans to manage growth, achieve compliance, and transform business operations. MorganFranklin has offices in Washington, D.C., and London, and has supported clients in North and South America, Europe, and Asia.
MorganFranklin was named to Consulting magazine's 2012 "Best Firms to Work For" list and made the 2013 Inc. 500|5000 list of the fastest-growing private companies in America. Third-party customer satisfaction surveys highlight the company's reputation for being hands-on, flexible, and skilled at bringing diverse groups together to complete projects on time and within budget. To learn more about the company visit http://www.morganfranklin.com.
MorganFranklin Consulting is the brand name referring to the global organization of MorganFranklin Corporation and MorganFranklin Limited, a UK subsidiary serving as the EMEA headquarters of MorganFranklin Corporation.