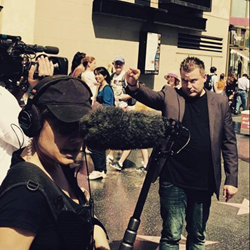 In addition to his international appearances, shows, and tours, Morgan's world-class talents and creativity are showcased on Don't Blink, a weekly series on the POP cable television network.
Las Vegas, NV (PRWEB) October 21, 2015
Morgan Strebler's stellar, cutting edge career continues to garner accolades and recognition from the industry's highest levels. Today, Morgan was named recipient of the coveted "2015 Mentalist of the Year" Merlin Award With previous recipients such as David Copperfield, Seigfried & Roy, Penn & Teller, and Criss Angel, the coveted Merlin Award is what the Oscar is to the movies, the Emmy to television, and the Tony to theater. The announcement was made by Tony Hassini, IMS World President, Chairman and CEO at its Westbury, New York headquarters.
In contemplating the extreme significance of his third Merlin Award, Morgan stated, "I want to thank Tony Hassini and the IMS for bestowing this great honor upon me. By being able to entertain millions of magic fans around the world, I am the luckiest man in the world. I owe so much to my family and fans. God bless all of you."
Further, Morgan emphasized, "I would also like to thank Will Tsai, CEO of SansMinds Magic. The partnership we share and common goals we embrace have had such an influence in me receiving another Merlin Award. Will and SansMinds Magic have rebranded my image and put me back at the forefront of the international magic community. I'm forever indebted to them."
Building on his reputation as an industry visionary known for pushing the envelope, Morgan is planning the "stunt-of-the-century" in New York City's Time Square. Called "Between Life and Death", he will die in front of a live audience. His lifeless, cold, blue body will be available for examination by both medical professionals and spectators. With absolutely no pulse, doctors will use defibrillators to bring him back to life.
In keeping with IMS' primary mission of promoting and preserving the art of magic, the esteemed Merlin Award is presented to only those select magicians who have achieved the highest level in their craft, both on the national and international stage. The criteria that the voting members consider are talent, showmanship, originality, skills, and above all, the rare ability to entertain under any conditions.
In 1968, IMS selected over 100 art students nationwide to conceive the stunning Merlin Award statue. The winning design was carved and created by Carol Michaud, a young New York University art student. With over 37,000 members, IMS now spans the globe with officers in Argentina, Australia, Brazil, China, Colombia, Finland, Cyprus, Greece, Middle East, Germany, Holland, India, Italy, Israel, Japan, Korea, Malaysia, Pakistan, Portugal, Singapore, Spain, Sweden, Turkey, Ukraine, United Kingdom, and Vietnam.
###