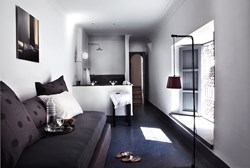 When you come here, you feel at home — there are books everywhere, it's relaxing. It's not like it was just decorated and things were put in place just for the guests. It's a lived-in house.
Berlin, Germany (PRWEB) August 26, 2013
Dar Kawa, a traditional Dar in Marrakech's center, is now available to rent through Welcome Beyond – a website promoting only truly memorable vacation properties worldwide.
The smells, the people, the food, the colors – on her first trip to Morocco, it became clear to Valerie that this is the country she wants to live in. A few years later, she bought a house in Marrakech and restored it together with her husband to turn it into a guesthouse. Their ambition was to keep the Saadian 17th century architecture intact and use only traditional materials and construction methods from that time.
Dar Kawa offers one double room, two mini suites and a big suite with a spacious living room, a fireplace, a separate toilet and a bathroom for massages. Hungry guests can order lunch or dinner (breakfast is included) or attend the cooking classes. With a patio, a living room and a terrace, the Dar offers spacious common areas; the cozy library has English and French literature. The style of the house is very personal: "It's just my style. I have already redone it three times. I can only say that whatever is there is there because I like it," owner Valerie states.
Whether it is a spa treatment, a special event, dinner recommendations or a day trip – Valerie and her staff are happy to help. "We are always there when people need anything, but Dar Kawa is not about being busy all day. It's more a place for relaxing."
With the Mediterranean sea, the desert, and the Atlas mountains, Morocco offers a uniquely diverse landscape with vibrant yet traditional Marrakech right at its heart. Here, Valerie recommends to visit the architectural highlight Medersa Ben Youssef, the Coranic school. The Atlas Mountains and the Ourika Valley are perfect for day trips and in winter guests can even go skiing among palm trees. As summer gets usually hot, the more relaxing "do nothing" philosophy takes over.
To find out more, visit Dar Kawa on Welcome Beyond.