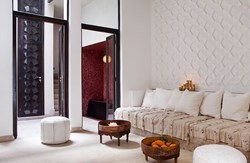 You're not in the middle of the city in tourist land, but a little outside, which is a great asset, as there is more traditional history. You actually feel like you are in Marrakech.
Berlin, Germany (PRWEB) August 29, 2013
P'tit Habibi in Marrakech is the latest addition to Welcome Beyond's collection of unique holiday homes & boutique hotels worldwide. The riad offers five individually furnished rooms fusing traditional craft with authentic '60s design, such as recycled Americana pinball mirrors.
With a passion for riads, Knut originally bought P'tit Habibi to use it as a private holiday home. When he made the decision to share it with guests, he bought the next-door building to extend his boutique hotel. His philosophy is simple: he wants his guests to be happy and feel at home while they stay. It is like living with a big family – and with excellent service.
"The design is sort of a play between the cultures of Morocco and the '60s rock'n'roll scene." Knut describes P'tit Habibi. Each of the five double bedrooms has been individually designed. Hazy Moon, for example, is a spacious suite with a private roof terrace (Atlas Mountain views included), the White Room Suite is very traditional with a balcony to the courtyard and Love Nest features a large bed under an arched niche. Wangarata sports a Swedish moose and a cozy fireplace whereas Peruche is characterised by beautiful bird motives and shades of pink and aubergine.
Delicious Moroccan cuisine can be served on the balcony, in the courtyard or anywhere else in the riad. The library and the lounge are open to guests and the terrace is the perfect place to hang out and enjoy a cup of fresh mint tea, or watch a classic movie.
P'tit Habibi is located just a 15 minute walk from the famous medina. Knut recommends to simply get lost to discover the new and old towns of Marrakech, or to visit the traditional market Bab El-Khemis nearby.
To find out more about P'tit Habibi visit Welcome Beyond Welcome Beyond.