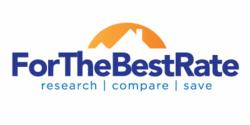 We may see rates continue to fluctuate as this news is absorbed, but overall they remain historically low and home buyers' purchasing power remains strong
Wilmington, NC (PRWEB) July 03, 2013
Mortgage rates for the most popular fixed rate programs rose on average this week reports mortgage rate research website, ForTheBestRate.com, after news that the Fed may slow the purchase of US Treasury Bonds impacted several financial markets. On Friday, June 28th, 2013 30 year fixed mortgage rates were advertised in the rate tables on ForTheBestRate.com as low as 3.875% (APR: 4.124%, Points: 1.755, Fees in APR: $1995, Lender: AimLoan.com.)
15 year fixed rates were posted as low as 3.250% (APR: 3.356%, Points: 0.000, Fees in APR: $1200, Lender: Home Finance of America,) and 5/1 ARM interest rates as low as 2.500% (APR: 2.746%, Points: 1.000, Fees in APR: $1753, Lender: Loan Depot) were advertised.
The weekly survey of mortgage rates released by Freddie Mac, a government sponsored enterprise and purchaser of mortgage loans on the secondary market, on Thursday, June 27th, 2013 also revealed the increase in pricing. The data showed that 30 year fixed mortgage rates rose to an average of 4.46% (0.8 points), up from 3.93% (0.8 points) the week before. 15 year fixed rates were also up on average at 3.50% (0.8 points) after falling to 3.04% (0.7 points) one week earlier. 5 year adjustable rate pricing increased to 3.08% (0.7 points) on average, up from late week's 2.79% (0.5 points.)
"As expected there was a strong reaction to Fed Chair, Ben Bernanke's comments on planned tapering off from the current level of treasury bond purchases," commented Shaun Hamman, VP of Residential Lending at American Financial Resources, a National mortgage lender. "We may see rates continue to fluctuate as this news is absorbed, but overall they remain historically low and home buyers' purchasing power remains strong," he continued.
Below is a snapshot of interest rates for a variety of programs listed on 6/28/13 on ForTheBestRate.com. Cleveland, OH mortgage rates represented in this survey. Rates are subject to change. Please visit the site to view the criteria used in the survey.
30 Year Fixed Mortgage Rates
Mortgage Capital Associates - 4.000% Note Rate, 4.168% APR, 2.000 Points, $0 Fees in APR
Total Mortgage - 4.000% Note Rate, 4.194% APR, 2.000 Points, $495 Fees in APR
15 Year Fixed Mortgage Rates
AimLoan.com - 3.125% Note Rate, 3.301% APR, 0.000 Points, $1995 Fees in APR
First Internet Bank - 3.250% Note Rate, 3.376% APR, 0.000 Points, $1428 Fees in APR
10 Year Fixed Mortgage Rates
Third Federal Savings & Loan - 2.690% Note Rate, 2.913% APR, 0.000 Points, $0 Fees in APR
Total Mortgage - 3.125% Note Rate, 3.188% APR, 0.000 Points, $495 Fees in APR
5 Year Adjustable Rate Mortgage Rates
Loan Depot - 2.875% Note Rate, 2.805% APR, 0.000 Points, $1950 Fees in APR
Roundpoint Mortgage Company - 3.000% Note Rate, 3.112% APR, 2.000 Points, $0 Fees in APR
About ForTheBestRate.com
ForTheBestRate.com is a website that offers information regarding mortgages, insurance, and personal finance. ForTheBestRate.com is owned by CMG Equities, LLC based in Wilmington, North Carolina. For more information, visit http://www.forthebestrate.com/
###