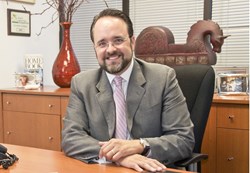 Good Financing Programs are Key to Stimulate the Real Estate Market!
Miami, FL (PRWEB) February 06, 2014
Presently, mortgages insurance companies are getting more comfortable insuring loans with down payments of just 5%. So it would not be a surprise if it gets faster to secure a loan in the future. It will be very practical for mortgage applicants to know in advance which documentation lenders will require, and to bring the necessary paperwork at time of application. The process will be smoother and will present to the lenders the complete picture, accelerating the process and making it easier to reach a final determination.
"Even if it becomes easier, by no means will it be a given," says Emilio J. Cardenal, Broker and Corporate Executive Officer of Interinvestments Realty. "Banks also face new mortgage regulations that could keep them more cautious. Borrowers with volatile or harder-to-document income, like self-employed and commissioned employees, still will face tough sledding. But applying with an experienced mortgage professional will help ease the complicated process."
"An absolute necessity for any potential buyer is to get pre-qualified before attempting to go out with a real estate agent to look at properties," says Saul Blanco, a 30-year mortgage broker specialized in the South Florida's area. "The pre-qualification has to be accomplished with concrete paperwork and not simply relying on answers given to a number of questions."
"Unfortunately we see far too many pre-approvals based upon verbal rather than on solid documentation," clears Blanco. "Two-year personal income tax returns in all cases plus two-years of Corporate Tax returns for the self employed buyer, including all pages, are a must along with the last thirty-days proof of pay-stubs for the salaried individual."
"In addition, the last two-months bank statements, including all pages, are required," explains Blanco. "We also obtain an authorization from the client to run our credit report which will be the last piece of the puzzle to make a concrete determination."
"With the new changes upcoming in our industry, it is crucial to have an alliance with a lender that will accurately determine the borrower's financial position in order to close more transactions," continues Blanco. "I am also a believer in personalized service. There is no substitute for it, even in a time of high technology. A personal interview with a potential client, when possible, is the best option."
If you want more information regarding how to buy a new or resale property, be interviewed and fully qualified by one of our preferred lenders, and find out how much you can afford to pay for your new residence or investment property, please call our Corporate Offices, at the telephone number that appears in our contact information, next to this communication.