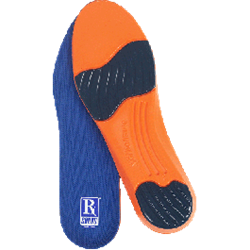 Morton's neuroma is a painful condition in which the nerve between the 2nd and 3rd toes becomes irritated.
Chicago, IL (PRWEB) January 31, 2016
RxSorbo, a leading online retailer of top-rated shoe insoles at http://www.rxsorbo.com/, is pleased to announce the publication of an informational Web page detailing the medical condition, Morton's neuroma, and possible shoe insoles. The symptoms to be alert for are described, and the role of shoe insoles in alleviating the discomfort of the condition are explained.
"Morton's neuroma is a painful condition in which the nerve between the 2nd and 3rd toes becomes irritated. Symptoms include either pain, or numbness, or both," explained Rj Yozwiak, Manager of RxSorbo. "Our new informational page combines basic information on Morton's Neuroma with shoe insole selection advice."
To visit the page, please go to http://www.rxsorbo.com/rx-blog/foot-ailments-mortons-neuroma. There, in addition to information on shoe insoles and morton's neuroma, one can browse up to the company's online store and begin the process of selecting the best shoe insoles for one's situation.
More on Morton's Neuroma and Shoe Insoles
Morton's Neuroma is common among runners as well as people who are up on their feet all day. Women who wear tight shoes are also typically afflicted. If a person thinks he or she might have Morton's neuroma, their best first step is to consult a physician. Only a licensed medical doctor or podiatrist can make a complete and accurate diagnosis. Part of the recommended treatment of the condition may involve running or walking shoe insoles.
Morton's neuroma, which can also be called Morton's metatarsalgia or intermetatarsal neuroma, starts as just a minor irritation, but can progress to a debilitating situation if not dealt with. While walking shoe insoles can be part of a course of treatment, the best action is to work in conjunction with a trained medical professional, and follow the steps suggested. It may well be that walking shoe insoles can help facilitate recovery, and many people have tried RxSorbo insoles for Morton's neuroma and found relief through them.
Sorbothane, Shoe Insoles, and Morton's Neuroma
Developed by a Materials Scientist to mimic human flesh - Sorbothane® is a one-of-a-kind visco elastic polymer. 100% unique - Sorbothane® is a solid that naturally "flows" like a liquid - Sorbothane® absorbs impact shock and provides comfort better than any other insole material available today.
About RxSorbo
RxSorbo is the source for Sorbothane® Shoe insoles (shoe inserts). Sorbothane® uniquely absorbs up to 94.7% of impact shock, and makes for quality shoe insoles for many conditions. People come to RxSorbo for shoe insoles for foot maladies from Plantar Fasciitis to Morton's Neuroma to metatarsalgia to many other conditions. From Shoe inserts for running to top-rated insoles for dress shoes to gym shoes, reviews of the company's shoe insoles prove they are among the best shoe insoles.
RxSorbo
http://www.rxsorbo.com/