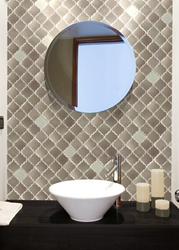 Because patterned mosaics are often sold in easy-to-install sheets, even the most detailed designs are roughly equivalent to much simpler patterns with larger tile.
(PRWEB) May 13, 2015
HomeThangs.com – the Online Home Improvement Store has made their goal to deliver the right product to the consumer. With that in mind, shopping and home design tips, as well as special product selections are being introduced.
Most commercially available tile is square or rectangular in shape. After all, straight lines and 90 degree angles are the simplest and most straightforward shapes to fit together, so it's no surprise that this is the default. But shaped and patterned tile is vastly more interesting to look at, and at the end of the day, not all that much more complicated to install. HomeThangs.com has introduced a quick guide to a few mosaic tile shapes that have been getting a lot of attention lately.
Right now, homeowners are looking for tile backsplashes and accents that are bold and distinctive, done in relatively large format tile. Curvy shapes are best, because they stand out sharply against the standard squared designs, and the patterns should be eye catching but not overly busy. Lantern tile is particularly popular now, particularly the more distinctive arabesque tile, but not necessarily for creating an "exotic" look. Often these tiles are done in soft pastels or other muted colors, which gives them a more muted style. Other patterns, like fish scale tile, are meant to be loud and attention grabbing, and often come in bold, vibrant colors that make them perfect for an accent wall. Smaller patterns made with tiles in several different shapes work well, too, though this type of very fine detailing can err on the side of being a bit too busy. While rounded shapes are very popular right now, patterned rectangular tile can be a good option as well, particularly complex basketweave and other similar designs, which have a lot more personality than a basic brick pattern.
For a more in depth look at some of the more popular mosaic tile shapes right now, check out the full article here.
HomeThangs.com is not only a home improvement superstore, it also provides expert design tips and a comprehensive shopping guide, taking the ideas from professional interior designers, and offering tips to the consumers on how to pick the products to best suit their needs.