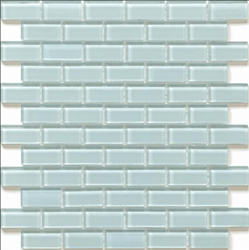 Tile borders can also be used to help unify a bathroom decor by repeating a type of tile that's used elsewhere in the room.
(PRWEB) August 13, 2013
HomeThangs.com – the Online Home Improvement Store has made their goal to deliver the right product to the consumer. With that in mind, shopping and home design tips, as well as special product selections are being introduced.
Designing a dream shower is about more than just choosing the right tile – it's also about finding the best, most beautiful way to install that tile. A whole bathroom done in a single type of tile can be beautiful, but the addition of even a small, simple tile border can totally alter the look. In fact, tile borders serve a lot of purposes in a luxury shower design, some of them functional and some of them aesthetic. HomeThangs.com has introduced a guide to a few common ways tile borders are used.
Showers that are made entirely of one type of tile walk a thin line between oozing classic beauty and being a little overwhelming. Unbroken travertine or marble showers have a lovely Romanesque appearance, but can feel a bit monolithic in a larger space. A simple tile border helps add character to a blank stone wall, providing relief for the eye and enhancing the overall style.
Similarly, a simple tile border can be used to separate two different types of tile, usually on the upper and lower halves of a wall. This type of border tile need only be a single tile thick, and not even necessarily a particularly thick tile. Its purpose is simple but important: to turn an unsightly seam into an elegant transition. This can effectively separate two totally different types of tile, tiles in the same shape and size but a different orientation, or tiles in the same material but different sizes or shapes. In a white-on-white porcelain tile shower, a border can even provide a little extra texture and classic flair by mimicking crown molding.
Mosaic tile borders in particular are a perfect way to add color to a shower. Mosaic tile sheets, which are made of several tiles arranged and affixed to an easy-to-install mesh sheet, are available in an amazing range of colors and materials, and can easily be cut down to the desired border size. Unlike borders made out of a single type of tile, these offer a vibrant, colorful, patterned appearance that can easily be the highlight of any shower, and bring a neutral-toned shower design to life. Better still, they're easy to install, with much less work than a traditional mosaic and almost no tile cutting needed.
Tile borders can also be used to help unify a bathroom decor by repeating a type of tile that's used elsewhere in the room. This can be as subtle as picking up a smaller tile accent on the bathroom walls to something as bold as carrying the tile from the shower floor throughout the rest of the space. These borders can be limited to the inside of the shower or wrap around the whole bathroom, but either way can help create a more coordinated look and feel.
Not all tile borders have to be horizontal, either – in fact, a vertical border, especially done in glass mosaic tile, has a striking modern appearance. It also works quite nicely to draw attention to shower hardware, either placed alongside it or – better yet – with the hardware installed directly into it. Which installation will work better depends a little on the types of tile involved – a mosaic tile sheet can be easier to cut to accommodate the hardware in the first place (depending on the sizes of the shower fittings), but may be a little more difficult to waterproof, which is important to prevent damage.
Similarly, a tile border doesn't have to extend along the whole length of the wall. In fact, smaller borders are a great way to draw attention to smaller features, especially in a shower with a relatively neutral tile. A small, frame-style border can be used to highlight unique features like recessed niche shelving. Placed in the center of the main bathroom-facing shower wall, a tile border used to frame several different types of tile (or differently oriented tile) can create a unique, artistic accent.
To see some of these ideas in action, read the full article here, or check out more great tile from Tesoro and Martini Mosaic.
HomeThangs.com is not only a home improvement superstore, it also provides expert design tips and a comprehensive shopping guide, taking the ideas from professional interior designers, and offering tips to the consumers on how to pick the products to best suit their needs.