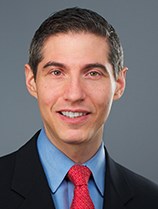 Ethical handling of sensitive genetic data requires caution and confidentiality.
New York, NY (PRWEB) February 20, 2014
Moses & Singer LLP partner Sam Servello was a speaker and moderator of two panels on genetics, ethics and the law at the 2014 Health Law Section Annual Meeting of the New York State Bar Association on January 29, 2014. He serves as the Co-chair of the New York State Bar Association's Committee on Medical Research and Biotechnology.
Sam stated that genetic data is being created, collected and stored at an ever increasing rate. While genetic data can be utilized for diagnostic purposes in combination with other indicators of current health status, such as glucose levels, cholesterol levels or blood pressure, genetic data holds a special property. "Genetics can be used to predict predisposition for unmanifested diseases," Sam explained. The impact of such predisposition information reaches beyond the individual. "Genetic information affects siblings, children, parents and anyone else sharing the genetics of the individual."
In addition to its value in diagnosing current and possible future diseases and pathologies, genetic information is a valuable resource for researchers as well. "There is as a strong economic incentive to collect and utilize genetic information," Sam observed. In view of this, "the legal community should keep an eye on balancing the goals of research and development of new therapies with an individual's right to privacy over their genetic information." Sam urged the legal community to understand the implications of genetic data, advancement in technology and how they are and should be reflected in our legal framework.
He and the other presenters discussed issues regarding access to and requirements of genetic diagnostic and direct-to-consumer testing. Both legal and ethical obligations need to be considered in the development of policies affecting confidentiality, retention and return of genetic results, biobanking, and in the conduct of genetic and other medical research.
------------------------------------------------------------------------------------------------------------------
Sam Servello is a partner in the Healthcare practice at Moses & Singer LLP, a law firm founded in 1919, counseling prominent businesses and individuals in diversified commercial, professional and personal matters. Please visit the firm's website for more about the Healthcare practice and for complete disclaimer information.