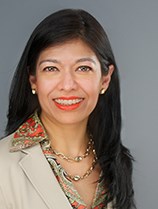 The prospect of leading the Professional Discipline Committee is both exciting and challenging.
New York, NY (PRWEB) August 26, 2013
Devika Kewalramani, Partner at Moses & Singer LLP and Co-Chair of its Legal Ethics & Law Firm Practice, has been appointed the incoming Chair of the Professional Discipline Committee of the New York City Bar Association as of September 1, 2013. Founded in 1870, the New York City Bar Association is one of the oldest and largest local bar associations in the country, with over 24,000 members and more than 150 committees. 
 
The Committee on Professional Discipline monitors the role and function of the lawyer disciplinary process in New York. The Committee examines the procedural rules governing the disciplinary system and reviews the practices and performance of the disciplinary agencies in New York City. It issues reports and recommends rule and policy changes to the Appellate Divisions and the Office of Court Administration to improve regulation of the legal profession.
The Committee also prepares and files amicus briefs in appropriate cases and works with the New York City Bar's Professional Responsibility and Professional Ethics Committees on joint projects to amend and improve the Rules of Professional Conduct and other ethics-related statutes. It sponsors CLE programs on professional discipline and ethics-related topics. In addition, the Committee oversees the New York City Bar's Complaint Mediation Panel which mediates client/lawyer disputes (other than fee disputes) and seeks to amicably resolve minor client complaints referred by the Department Disciplinary Committee in the First Department.
At Moses & Singer, Ms. Kewalramani represents law firms and lawyers in professional ethics, attorney discipline and risk management-related matters. She also currently serves as the firm's general counsel. Ms. Kewalramani is a frequent lecturer, panelist and author, and speaks to law firms, corporate legal departments, bar associations and other professional organizations on legal ethics.
"This is an exciting and challenging opportunity. It is personally gratifying to be recognized by the legal community for my contribution in this area," notes Kewalramani. "I am honored by this appointment and anxious to tackle the Committee's agenda."
Alan Kolod, Chairman of Moses & Singer's Management Committee adds, "Devika has devoted her practice to the furtherance of legal ethics. Our firm is proud of her achievements and looks forward to supporting her efforts in leading the Committee in a demanding legal environment."
---------------------------------------------------------------------------------------------------------------------------------
Devika Kewalramani is partner and co-chair of Moses & Singer's Legal Ethics & Law Firm Practice. Moses & Singer LLP, a New York City law firm founded in 1919, serves the legal needs of prominent industries and individuals in diversified commercial, professional and personal needs.