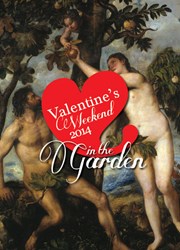 New York, NY (PRWEB) January 29, 2014
Celebrate Valentine's Weekend at the Museum of Sex, the perfect place to energize all your senses. Enjoy the galleries, peruse the store and experience the wonders of PLAY - our new cocktail bar & den - for a taste of paradise.
The Museum will extend its hours on February 14th, open from 10am until midnight.
For Valentine's Day, the entire Museum will be transformed into a Garden by artist Joel Yapching, who will be creating preserved and fresh floral arrangements for your love(s).
Admission to the galleries allows visitors to see four exhibitions on the subject of human sexuality, including the recently opened exhibition The Eve of Porn: Linda Lovelace. Visit the MoSEX store for great Valentine's Day gifts, and take a snapshot in the MoSEX photo booth. In PLAY, the new den & bar at the Museum, enjoy champagne toasts, specialty cocktails, chocolates, oysters, hors d'oeuvres, and 6-course dining packages
Choose from one of our admission packages:
ENTRY
General Admission to the Galleries
$19.50
GET BUZZED
Admission + Champagne Toast
$26.50
GET SOME PLAY
Admission + Reservation in the PLAY Den with Hors D'Oeuvres and specialty cocktail
$55.00
For Couples:
GET BUSY
Admission for 2 + Champagne Toast for 2 + MoSEX Kit for 2
$77.00
PLAY ALL THE WAY
Admission for 2 + Champagne Toast for 2 + 6 course tasting menu + MoSEX Kit for 2
$236.00 for 6pm seating or $295.00 for 8pm seating
(price includes gratuity)
*Add a Preserved Rose Specimen Gift to any of the above packages for only $15.00*
Seating is limited for the PLAY ALL THE WAY package so book your tickets today. Tickets to all Valentine Day packages can be purchased through EventBrite.
About the Museum of Sex
The Museum of Sex features a diversity of programming which explores both the breadth and nuances of human sexuality. The Museum engages the world's premiere scholars, artists and visionaries to bring the public the best in current scholarship on social, cultural, scientific, and artistic aspects of human sexuality. In its ten years in NYC, MoSex has built over 15 exhibitions which address a wide range of topics, highlighting material and artifacts from different continents, cultures, and time periods.
About PLAY
PLAY is a drinking den at the Museum of Sex that features artist-crafted cocktails which offer a new point of entry into our understanding and experience of desire and sensuality. PLAY encourages guests to wander distinct spaces and explore the creative menu in its veritable garden of delights designed to arouse the senses.