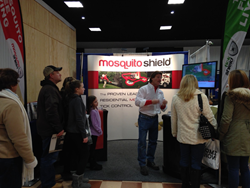 Southeastern Pennsylvania has one of the highest rates of Lyme disease in the country.
West Chester, PA (PRWEB) January 20, 2015
Tick Shield is a continuous treatment applied on residential properties that is specifically designed to prevent the spread of Lyme disease by eradicating the deer and wood ticks. Southeastern Pennsylvania has one of the highest rates of Lyme disease in the country.
Mosquito Shield's Tick Shield® is 99% all-natural and eliminates deer and wood ticks, as well as fleas through their proprietary blend of natural oils. This new product was featured this past weekend at the Greater Philadelphia Spring Home Show and can be seen at the following upcoming shows: The Philadelphia Home Show January 17-19 and January 23-25; Suburban Home and Garden Show in Oaks, PA February 19-22; the Del Val Home Show at Ice Works in Aston, PA March 13-15; at the Bucks and Montgomery County Spring Home Show March 20-22; and then finishing up at the The Chestnut Hill Home and Garden Festival on May 3 and Community Associations Institute in Philadelphia May 14th, just in time for Lyme Awareness month and tick season to begin.
10% of all of the 2015 tick service proceeds from the home shows will be donated to the Lyme Disease Association of Southeastern Pennsylvania (LDASEPA). The LDASEPA, an affiliate of the national Lyme Disease Association, is an all-volunteer non-profit organization aimed at improving the lives of people suffering from Lyme and other tick-borne diseases and preventing new cases through education, support, public information, research and partnership with organizations with common goals.
Mosquito Shield's first Pennsylvania franchise is owned by Rick and Tina Brogan and serves Greater Chester County, Delaware County, Philadelphia County and Southern Montgomery and Bucks Counties. Tick Shield's trained technicians target the areas of a property where the tick threat is highest and address changing conditions, as well. The Tick Shield program can be purchased on its own or as the perfect complement to their Mosquito Shield protection plan. For more information about Mosquito Shield's products and programs or about any of the upcoming home shows, please call 484-947-2939.
About Mosquito Shield®
Mosquito Shield specializes in mosquito control by using a specially formulated Mosquito Protection Blend™, which is 99.97% all natural and guaranteed. The treatment is applied around all areas of activity such as decks, patios, or pools throughout the entire mosquito season. Mosquito Shield has invested more than 14 years of research and development in the perfection of its proprietary Mosquito Protection Blend™, customized technology solutions, and business strategies that support steady franchise growth and high levels of customer satisfaction.
About NALA™
The NALA is a full-service marketing agency providing custom personalized service for small and medium businesses throughout the United States.
PR Contact: Tiffani Tendell
805.650.6121 x361
ttendell(at)starkartthenala(dot)com