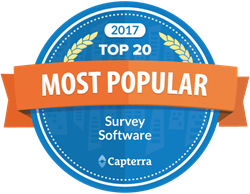 Everybody wants to be the best -- whatever the category, we all want to be at the top of the list.
(PRWEB) October 05, 2017
SoGoSurvey of Herndon, Virginia, has been recognized by Capterra as leading the online survey software industry in three major categories: Most Popular, Most Affordable, and Most User-Friendly.
While simply appearing on one of Capterra's "best of" lists is an honor, SoGoSurvey's appearance high on three different lists is definitely an achievement. "It's validating to have our success recognized by the industry experts who carry out these evaluations," says Haris Azmi, Chief Marketing Officer. "Along with the positive feedback from our own users, it's great to get this response from those whose experience stretches across the global market."
Customers around the world use SoGoSurvey to measure and manage customer experience and employee engagement, to conduct academic or market research, and to collect feedback on a wide range of other topics from all kinds of audience. A comprehensive survey platform allows users to design, distribute, and analyze their own projects in the same secure location, with a strong focus on the powerful reporting engine that many users are looking for.
Based on user feedback, SoGoSurvey continues to innovate and refine its offerings, leading to even more positive feedback from users. "It's what we do here," says Azmi. "We care about data, and we put it to work for us, too!"
The Top 20 Most Popular Software Series was launched by Capterra in 2012. The survey software category is especially competitive, explains Matt Katz of Capterra. "There are more than 280 survey products listed on Capterra, so being not included in just one or two reports, but all three is honestly extremely rare."
Says SoGoSurvey CEO Hamid Farooqui, "Everybody wants to be the best -- whatever the category, we all want to be at the top of the list. When we started SoGoSurvey in 2013, there was no shortage of contenders in the online survey market. Still, we launched SoGoSurvey because we knew we could do better. Capterra's latest ratings validate our vision and efforts."
About SoGoSurvey
Founded in 2013, SoGoSurvey is a leading online survey provider with global offices in 3 countries. We created SoGoSurvey to end the frustration of online survey tools that either don't work or break the budget. It's no wonder that 79% of our customers switched to us from other companies.
SoGoSurvey's founders are recognized experts and visionaries in the field of survey technology and human/computer interface. The company has been recognized for its innovative technology and thought leadership in using survey data to build trust with customers and employees. In addition to our staff, our customers are a valued part of the SoGoSurvey community, providing feedback and inspiration for product features and design. Please join the SoGoSurvey conversation on Facebook, Twitter or on our website at http://www.sogosurvey.com.