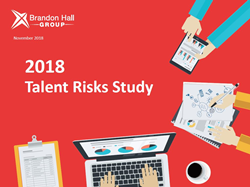 The study shows that almost every talent risk is a priority and most organizations aren't making progress in any of them
DELRAY BEACH, Fla. (PRWEB) December 06, 2018
Employers are grappling with an endless array of talent risks, according to the latest Brandon Hall Group research. No matter the size or type of organization, not being able to develop the workforce skills and capabilities that the business will require in the near future is the top risk reported.
"The study shows that almost every talent risk is a priority and most organizations aren't making progress in any of them," said Claude Werder, Vice President and Principal HCM Analyst at Brandon Hall Group. "Like the saying goes, if everything is a priority, then nothing is a priority."
"The solution is leveraging data to create predictive and prescriptive models to identify the most urgent talent priorities," said Werder, who manages the firm's Talent Management practice. "You can't solve everything at once. Tackling the most urgent problem first is the best strategy because those issues impact most everything else. They are almost always inter-related."
Overall, the top five talent risks for organizations are:

Skills and capabilities required by the business in the near future are not developed
A lack of depth of internal critical candidates
The cost of retaining top talent becomes unsustainable
Difficulties in retaining key people
An inability to define new skills and capabilities needed by the business in the near future
To discover the top 20 talent risks your organization should be monitoring, download a snapshot of the survey results here http://go.brandonhall.com/DataNow_Snapshot_Talent_Risks_PR_2018.
The talent-risks study, conducted May-October 2018, drew 195 valid responses from 41 countries and 28 industries. 70% of responses came from the U.S. and Canada and 20% from EMEA nations.
About Brandon Hall Group Inc.
Brandon Hall Group is an HCM research and advisory services firm that provides insights around key performance areas, including Learning and Development, Talent Management, Leadership Development, Talent Acquisition and HR/Workforce Management.
With more than 10,000 clients globally and 25 years of delivering world-class research and advisory services, Brandon Hall Group is focused on developing research that drives performance in emerging and large organizations, and provides strategic insights for executives and practitioners responsible for growth and business results.
At the core of our offerings is a Membership Program that combines research, benchmarking and unlimited access to data and analysts. The Membership Program offers insights and best practices to enable executives and practitioners to make the right decisions about people, processes, and systems, coalesced with analyst advisory services which aim to put the research into action in a way that is practical and efficient. (http://www.brandonhall.com)
For additional information, please contact Mike Cooke at mike.cooke(at)brandonhall(dot)com or (561) 306-3576.