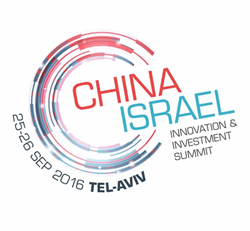 The conference is a great opportunity for collaboration between two rapidly innovating counties.
Burlington, MA (PRWEB) September 29, 2016
PetPace, the provider of an innovative smart collar for remote continuous monitoring and analysis of pet vital signs and activity is selected to attend the prestigious INNOVATION China-Israel Innovation and Investment summit in Tel-Aviv, Israel on September 24-26.
Throughout the exclusive two day event PetPace will demonstrate the technology behind their revolutionary wearable for pets to Chinese investment entities, including investment houses, venture capital firms, private investors and strategic players seeking partnership opportunities.
"The conference is a great opportunity for collaboration between two rapidly innovating counties. We are honored to participate in such a prestigious event and are looking forward to sharing details about our technology and getting acquainted with other attendees," said Avi Menkes, CEO of PetPace.
PetPace was named "Israel's Most Promising Start Up" for 2015 after beating out 150 other companies in a competition sponsored by prominent Israeli business daily Calcalist, together with Israel Export Institute and Israel's largest commercial bank, Bank HaPoalim.
The PetPace collar is a smart, non-invasive, sensor-rich wearable technology, which is especially useful for older pets, sick pets and pets that are at-risk for health issues. It continuously monitors a range of physiological and behavioral attributes including temperature, pulse, respiration, activity positions, heart rate variability, calories and more.
The company has been recognized by pet owners and pet healthcare professionals alike for its unique contribution to saving pet lives, streamlining pet healthcare at home and in the clinic, and improving overall quality of life for dogs and cats. The system includes a cloud-based engine for close observation, analysis, timely detection, and alerting of medical and behavioral problems in dogs and cats.
About PetPace:
PetPace was founded in 2012 to bring peace of mind to pet owners and prevent unnecessary pain and suffering for dogs and cats through improved pet health and quality of life. PetPace specializes in the remote continuous monitoring of pet vital signs by utilizing advanced analytical methods and alerting models. The company's low power, wireless collar is fitted with an array of non-invasive sensors that continuously monitor a range of physiological and behavioral parameters. Once an abnormal sign or behavior is detected, a sophisticated cloud-based analytical engine evaluates the signs and, if needed, sends an immediate alert regarding any suspected condition. This allows the owner or the veterinarian to take preemptive action to protect the pet's health. PetPace collars are suitable for pets at all ages, especially for older pets, sick pets, or pets that may have a higher predisposition to various health risks. For more information about PetPace real-time pet health monitoring, visit http://PetPace.com.