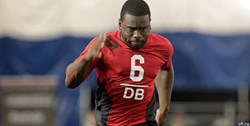 Toronto, Ontario (PRWEB) September 26, 2013
Kris Robertson of Four Hour Fitness Formula has issued his best fitness and nutrition program his team has ever written, according to a recent interview. While thousands of reports are distributed daily, Robertson feels this new report will go down in history as the best fitness and nutrition program that has ever been written.
"I've been an athlete and trainer for over ten years and have to say, I'm speechless with how it turned out," claims Robertson, the 11th overall pick in last year's CFL Draft. "The title alone grabs you and demands that it be read. Then there's our program that completely takes things to an entirely new level. I'm proud that we can finally release this report. In fact, it is [really] amazing."
The Four Hour Fitness Formula is for people who are seeking to burn fat and cellulite while maintaining a healthy lifestyle and diet. The workouts in Robertson's formula can be done at home with little to no equipment and are derived out of the years of research and testing he has done on himself and with his clients and athletes in Toronto, Montreal, and most recently Winnipeg.
"I'm quoting myself again because the first quote didn't do it justice," says Robertson. "If you're interested in health, then you know what I'm saying when I say this report is something special. In fact, it's five pages of bare bones what-to-do content, you just click in read what to do, and do it. We made it super easy to do and like the hundreds of others who have downloaded it since its recent release, when it lands on your hard drive I believe it can change your life."
The science behind this report could lie in its simplicity - upon release Robertson recently stated there is no fluff, just pure old proven strategies and fine craftsmanship. According to an interview with Robertson it all started with an incredible brainstorming session that asked a very simple question: "what makes a fat loss program amazing?"
Robertson said "Elaborate notes from that brainstorm were then formulated into the strategy and eventually the workouts and nutrition program you receive without charge... all expertly designed to make you pause and reflect at the power of this fat loss report"".
Robertson has stated that their mission with the Four Hour Fitness Formula is to change the lives of 1 million people through continued education about healthy eating, strategic exercise to boost energy and fat loss, and increase results by way of social motivation.
Upon final approval, Robertson and his team have released this new report to the general public for nothing. The result is a four-page, 1.5 spaced report that is available for download at:
http://FourHourFitnessFormula.com
This gratis fat loss program is brought to you by the Four Hour Fitness Team who would also love to hear your feedback on the report so if you agree, tell Kris at info(at)4hourfitnessformula(dot)com or follow him on Twitter at KROB23.
About Four Hour Fitness Formula
Four Hour Fitness Formula is a very small fitness & nutrition company located in Toronto, Canada. It currently consists of Kris Robertson, AJ Calleri, an Apple computer and their fitness studio. Kris and AJ have been doing personalized training since the early 2000's and have worked with some of the best athletes in Canada and many of their professional athletes. While they can do every single facet of fitness & nutrition, their background is in client motivation and athletic training. Their main interests are helping people develop creative programs and alternatives to traditional nutrition & fitness tactics.
SOURCE FourHourFitnessFormula.com