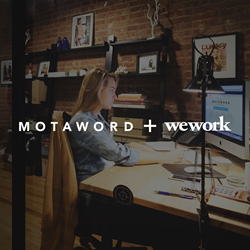 Any business with a web presence - whether they realize it or not - is a global business.
New York, NY (PRWEB) September 26, 2017
WeWork Services Store, launched in April 2017, has a new partner: MotaWord (http://www.motaword.com).
The world's fastest business translation platform started to provide WeWork members with highest quality, seamless business translation service in 80 languages, 24 hours a day, 7 days a week.
With nearly 140,000 global members, 26,000 companies and a recent $4.4 billion investment, WeWork is poised to be the global workplace giant for small to mid-size businesses.
And when the subject is global expansion, one of the first services needed is translations. That is where MotaWord comes into play.
MotaWord provides instant quotes for any type of document, removing a major hassle, especially for those that need translations in multiple languages. As soon as the client approves the quote, MotaWord's 13,000 language professionals translate, edit and proofread business documents to perfection.
As these highly-qualified, vetted and trained translators work collaboratively on the MotaWord platform, they are backed by a proprietary Artificial Intelligence, which minimizes repetition, corrects formatting and checks for linguistic consistency. The result is a top quality translation delivered 20 times faster and 60% cheaper than traditional translation agencies.
"At MotaWord we are committed to helping businesses succeed," says Evren Ay, CEO of MotaWord. "Any business with a web presence is a global business. Over 78% of the internet population speaks a language besides English, and customers hear you better in their own language. By partnering with WeWork, we make it easier than ever for small and mid-size businesses in the WeWork community to access high-quality translation services for their legal, financial, technical, marketing documents and digital content."
WeWork Service Store is open for business, and members can sign up for MotaWord's business translation services now. MotaWord fully supports the "Streamlined" approach of the WeWork store, allowing the members to pay for MotaWord translation services via their WeWork monthly bill. One clear, tax-ready invoice for services and office space also simplifies bookkeeping for businesses, compliments of WeWork and MotaWord.