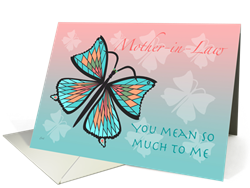 You don't get to choose your in laws however you can choose how you treat them and showing your mother-in-law a little appreciation can go a long way.
San Francisco, CA (PRWEB) October 24, 2013
Greeting Card Universe, the world's largest greeting card store, announces its collection of over 300 hard to find, original cards for an unusual occasion, Mother-in-Law Day.
"In recent years, it's become natural to send a Valentine's Day or Mother's Day card to your mother-in-law as well as other relations," says Mindy Rosso-Gaemi, Community Manager at Greeting Card Universe, "but Mother-in-Law Day, celebrated on the fourth Sunday in October, is a special day set aside to celebrate your husband or wife's mom. Mothers –in-law have a unique and often difficult place in a family thus deserving of their own special day of appreciation. "
Mothers-in-law get a bad rap, having long been the butt of many jokes and clichés as meddling, overbearing, opinionated, busybodies. They have become "family" through marriage, like it or not. The reality is there's a stigma of being a mother-in-law, which for a daughter-in-law is perhaps one of the most tenuous relationships in a family.
While many new brides feel intimidated by their mothers-in-law - often due to insecurities and erroneous assumptions or expectations according to the 2009 research of Dr. Teri Apter of Newnham College, Cambridge - mothers-in-law often give valuable assistance to their families. When both parents work outside the home, for example, the mother-in-law frequently steps in to provide part-time child care.
"You get to choose your spouse, but you don't get to choose your in-laws. That's just a fact; however, you can choose how you treat them. Showing your mother-in-law a little appreciation can go a long way," says Rosso-Gaemi. "It will not only forge a stronger relationship that will benefit you and your children, but in the long run also benefit your marriage. Send a Mother-in-Law Day card along with a bouquet of flowers, an invitation to dinner at her favorite restaurant, or a gift certificate - every woman enjoys knowing she's loved and valued by her family."
"Perhaps it's time to extend the olive branch," says Rosso-Gaemi. "We have Mother-in-Law Day cards specifically for a strained or estranged relationship. Once shoppers discover the variety of cards we offer, they'll never shop anywhere else."
Additionally custom greeting cards can be created within 48 hours at no additional cost by requesting changes or a totally new design from a community of more than 6,100 freelance artists from around the world. Shoppers can also personalize the inside of all cards at Greeting Card Universe with their own text and photo. An added convenience for last minute shoppers, cards can be ordered online and picked up—usually within one hour—from most Target stores across the country.
Greeting Card Universe's traditional and niche offerings of over 597,000 cards gives nod to the importance of choice and personalization in today's marketplace and stays true to its tagline "any card imaginable."
Explore more uncommon holidays and occasions on the Greeting Card Universe blog. Mindy Rosso-Gaemi is available for guest blogs, radio and TV interviews on this topic and other uncommon occasions and holidays.
About Greeting Card Universe
Greeting Card Universe (http://www.greetingcarduniverse.com) is a division of BigDates Solutions, a private company that provides consumers with unique, personalized services for any holiday or occasion. Greeting Card Universe is the world's largest paper greeting card store, offering an unlimited selection of custom greeting cards, birthday greeting cards, photo cards, invitations, and more. Greeting cards can optionally be mailed or shipped to the shopper or recipient from either US or UK print facilities. Cards can also be printed and picked up at over 1000 Target stores Photo labs. BigDates Solutions is also the creator and operator of Birthday Calendar Classic for Facebook and iPhone.