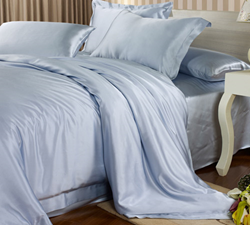 We are glad to offer great promotion to celebrate the Mother's Day.
Houston, TX (PRWEB) April 30, 2014
Mother's Day marks the most important day in the whole year, and it is a day full of thankfulness and happiness. In order to celebrate this special day, Lilysilk, which specializes in silk bedding wares, has recently announced its Mother's Day Deal: 15% off on 22/25MM silk sheets, and 20% off on silk pajamas. Customers come to their website, and follow the gift guide they offered to find the best gifts for mothers at the competitive prices.
Lilysilk has been popular among ladies and gentlemen for its top-quality silk sheets at competitive prices, perfect services including free delivery, instant online-help, and considerate return policy. Now, the company is kicking off the holiday and helping customers to pick up the best gifts for mothers this year. The promotion is not launched only for female friends. Male customers can also find the comfy silk nightwear for themselves with big 20% off discounts. Never forget gifts for fathers while celebrating Mother's Day.
Mike Lee, CEO of the company, says, "We are glad to offer great promotions to celebrate Mother's Day. Spouses, children and grandparents will be spending money to help celebrate the positive contributions our mothers have made to society. We shall do something to spoil them. The discounts here are big, and we also offer the considerate gift guide for customers to pick up the best gifts."
In addition, the business has also provided 15% off on its mulberry silk blankets. Made of 100% pure mulberry silk, the silk blanket is popular among mothers and housewives. According to what Mike Lee said, lots of female customers like to use silk blankets on Spring nights. They are lightweight and comfortable, which are good for sleep.
Any more information about Lilysilk Mother's Day Sale can be accessed at: http://www.lilysilk.com.