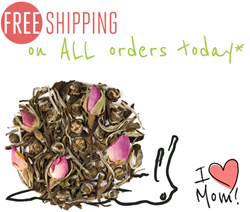 ... I can't think of a better gift than premium tea to encourage a little more self-care for moms of all ages.
Denver, CO (PRWEB) April 30, 2015
In preparation for Mother's Day 2015, online tea retailer The Tea Spot is offering free shipping to promote easy premium tea gift giving. For just two days, starting today, all online orders shipping within the Contiguous US will automatically qualify for the promotional shipping offer and will receive a complimentary premium tea sample, plus three natural skin care samples.
With a full suite of modern Steepware® and premium teas, which includes loose leaf and tea sachet options, The Tea Spot provides a complete collection of tea gifts perfect for the upcoming holiday. Whether the gift recipient enjoys gourmet dessert teas, classic single estate teas, or is more drawn to 100% organic certified varietals, The Tea Spot has a wide array of premium tea options.
In addition to the frequently noted health benefits of antioxidants in tea, multiple medical studies show that tea may also increase bone mineral density, which helps prevent fractures and osteoporosis. This makes tea an ideal healthy beverage for women, and the perfect gift to promote healthy habits for increased longevity and vitality.
Jessica Kochik, CMO of The Tea Spot commented, "We're thrilled to offer an affordable way to send premium healthy teas as Mother's Day gifts. Being a new mother myself, I've discovered that it's a fun holiday for fellow mothers to reach out to each other with thoughtful little gifts of acknowledgment. I can't think of a better gift than premium tea to encourage a little more self-care for moms of all ages."
The Tea Spot encourages healthy living and active lifestyles. This Mother's Day gift promotion is an extension of that and includes all products from their online tea store for just two days (April 30 - May 1, 2015).
###
About The Tea Spot: The Tea Spot is a leading producer of handcrafted whole leaf teas and the creator of Steepware®—innovative tools that make the premium tea experience effortless and accessible. The company's focus has held steadfast since the for-profit philanthropic company was founded by Maria Uspenski in 2004, a cancer survivor drawn to the health benefits of leaf tea during her recovery. Her message is simple and powerful: tea in its freshest form renders premium flavor, unmatched health benefits, and is eco-friendly. The Tea Spot's philanthropic 10% Pledge incorporates its mission to foster health and wellness through loose leaf tea. Ten percent of the company's sales are donated in-kind to cancer and community wellness programs. The Tea Spot is a Colorado-based Certified B Corporation, woman-owned and operated business.