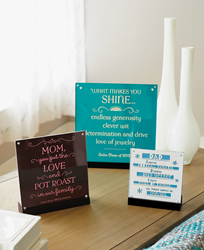 "Consumers have told us that mom values having those emotions delivered in a way she can hold onto," said Jessica Lee, Hallmark product manager.
Kansas City, Mo. (PRWEB) April 29, 2014
How Mother's Day is celebrated has changed a lot over the last 100 years, but the one thing that has stayed the same is the desire to let mom know how much she is appreciated and loved.
"Mother's Day is an opportunity to tell mom, or anyone who serves a mom role, just how important she is and how much we appreciate all she does," said Jessica Lee, Hallmark product manager. "Consumers have told us that mom values having those emotions delivered in a way she can hold onto. Since we may not say it often enough, she wants that card as a reminder."
Hallmark makes it easier than ever to say "thanks" or "I love you, Mom" with more than 900 different card designs and a variety of customizable gifts.
2014 Mother's Day Cards and Gifts
Sarah Jessica Parker Card Collection − Show mom she's a fashionable, feminine and fabulous mom with one of the 12 Mother's Day cards in the new Sarah Jessica Parker Collection. Parker collaborated with the creative team at Hallmark to develop design themes that reflected her personality, often pairing vintage artwork from the Hallmark archives with more modern touches and embellishments, such as gemstones, ribbon and tulle. Parker also helped set the editorial "voice" of the cards – opting for simple, authentic and heartfelt messages.
Available for $4.99 each exclusively at Hallmark Gold Crown® stores
Wife, Mom and Grandma Collections − Wish her the very best or show love and support for that special woman with a card from the Wife, Mom or Grandma Collections. Each collection has 10 cards and includes formats like card presenters and gift card holders.
Available for $3.99 - $6.99 exclusively at Hallmark Gold Crown stores
Magic Prints® Greeting Cards and Gifts − Magic Prints Greeting Cards and Gifts help make Mother's Day meaningful and memorable. Magic Prints just for mom and grandma, come with a mess-free Crayola® magic solution, so kids can add a personal touch like a handprint or, new this year, a footprint, to specially designed cards and gifts. The 10 card designs include three recordable cards and a mixture of new characters including Disney and Peanuts®.
Available for $4.95 - $24.95 at Hallmark Gold Crown stores and participating Hallmark retailers
Customly Yours − Put it all on display and in your own words with new Customly Yours personalized frames. Three simple steps are all it takes to create a customized gift for mom or grandma that includes personal words, thoughts and messages. Customly Yours frames come with an access code to be used at Hallmark.com/CustomlyYours. Use the code, create your personalized message and then slide the professional-quality, laser-cut insert into your frame once it arrives by mail.
Available for $24.95 - $44.95 at Hallmark Gold Crown stores and online at Hallmark.com
Magic Message Reveal − Create an unforgettable moment of surprise and delight for Mom with a Magic Message Reveal gift. Each time the Angel or Heart Magic Reveal is held, a message of love appears in a crystal-clear window. For an extra special surprise, a small gift or additional message can be added inside.
Available for $16.95 at participating Hallmark retailers.
One-of-a-Kind Creations Shutterfly Gifts − Eye-catching, die-cut frames hold a customized print offering a unique gift. For Mother's Day, there are several appropriate designs including word frames that read "Mom," "Love" or "Home." Frames can be purchased at Hallmark Gold Crown stores and customized with personal photos at Shutterfly.com/Hallmark.
Available for $19.95 - $39.95 exclusively at Hallmark Gold Crown stores
All things Mother's Day can be found at Hallmark Gold Crown® stores and other participating Hallmark retailers nationwide. Use the store locator on Hallmark.com to find the nearest Hallmark Gold Crown store.
And for unexpected ideas for celebrating Mother's Day, visit the Explore section on Hallmark.com.
© Disney
© Peanuts Worldwide LLC
About Hallmark Cards, Inc.
Hallmark makes the world a more caring place by helping people express what's in their hearts and connect in emotional ways with others. In the U.S., innovative Hallmark greeting cards and gifts are sold through the network of Hallmark Gold Crown® specialty stores, leading mass retailers and online. Worldwide, Hallmark offers products in more than 30 languages available in 100 countries. Millions of households enjoy family friendly television programming offered by cable's top-rated Hallmark Channel and fast-growing Hallmark Movie Channel. Hallmark's Crayola subsidiary inspires artistic creativity in children through Crayola® crayons and markers as well as other innovative art tools, crafting activities and creative toys. Privately held Hallmark is based in Kansas City, Mo., and continues to be led by members of the founding Hall family. Visit http://corporate.hallmark.com for more details.