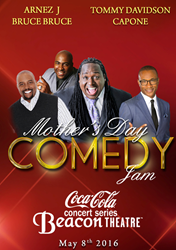 We wanted to do something fun this year with a special Mother's Day themed show. Comedy is a great change of pace, giving the gift of laughter to the mothers and wives in your life.
New York, NY (PRWEB) April 14, 2016
Marquee Concerts is pleased to present acclaimed comics Bruce Bruce, Arnez J, Tommy Davidson, and Capone at New York City's Beacon Theatre for the Mother's Day Comedy Jam on Sunday, May 8, 2016 at 7:30pm.
The show features an all-star line up of comedians who have performed at many of Marquee Concerts' shows throughout the years. "We wanted to do something fun this year with a special Mother's Day themed show," explains Bill Zafiros, co-founder of Marquee Concerts. "Comedy is a great change of pace, giving the gift of laughter to the mothers and wives in your life."
Comedian Bruce Bruce is known for his captivating improv skills and larger than life comedic style. He's been working all across the country for years, entertaining audiences, young and old and of all backgrounds. While known for his adult comedy, he prides himself on not using vulgarity to win a laugh. Bruce hosted two seasons of BET's "Comic View," headlined the 2008 Just for Laughs Comedy Festival in Montreal, and has appeared in numerous films including "Larry the Cable Guy: Health Inspector," had a cameo role in HBO Films feature "Idlewild," and played Golf Ball Eddie in the comedy "Who's Your Caddy."
With his charisma and great physicality, Atlanta native Arnez J has been dubbed "the black Jerry Lewis." The flight attendant turned comic had an uncanny ability to make passengers and crew laugh, and after his first try at stand up, he knew comedy was his calling. He left the airline and began working Georgia's club circuit, quickly becoming one of "Hotlanta's" funniest newcomers. After being a finalist in 1992's "Bay Area Black Comedy Competition," he was invited to appear on Showtime's "Comedy Club Network." More TV gigs followed, including appearances on "The Keenan Ivory Wayans Show," "Louie Anderson's Comedy Showcase," Comedy Central's "Make Me Laugh," NBC's "Friday Night Videos," "Def Comedy Jam," and his own BET "Comic View Grandstand" one-hour special.
From stand-up comedy to acting to his versatile musical ability, Tommy Davidson has earned a reputation as an extraordinary performer. Best known as one of the original stars of the hit television show "In Living Color," Tommy started his career as a stand-up comedian in Washington DC, where he earned an ardent following rigorously working area comedy clubs. Moving on to Hollywood performing stand-up at various clubs, he met Robert Townsend, which led to his first national TV appearance with a starring role in "Partners in Crime." This was the conduit to Keenan Ivory Wayans, who offered him an opportunity to audition and join the talented cast of the most adventurous primetime variety show of its day, "In Living Color." Through their originality, Tommy, Jamie Foxx, Jim Carrey, and Damon Wayans made TV history.
Hustling his way onto the entertainment scene in 1992, Bronx born Capone is known as the Gangsta of Comedy. He has since has shared the stage with top comedians including Mike Epps, Drew Frasier, Rob Stapleton, and Tracy Morgan. Capone is the host of Amateur Night at NYC's renowned Apollo Theater every Wednesday night with standup credits including the Uptown Comedy Club, Boston Comedy Club and Caroline's Comedy Club in NYC.
Tickets for Mother's Day Comedy Jam are priced from $59 to $99 and are on sale now at Ticketmaster.com, all Ticketmaster outlets, and at the Beacon Theatre and Madison Square Garden box offices. To charge by phone, call 866-858-0008. For more details, visit MarqueeConcerts.com.
About Marquee Concerts
NYC based Marquee Concerts, one of the premier independent concert promoters in the Northeast, produces hundreds of events across all spectrums and genres. Marquee is constantly researching new music trends, recognizing today's up-and-coming entertainers, and expanding upon existing business relationships to put on the best shows possible and remain a competitive mainstay in the concert promoter's industry. Learn more at MarqueeConcerts.com.
###