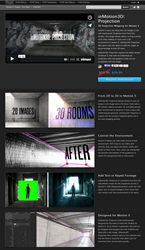 inMotion3D Projection allows users to transform a 2D image into a 3D world inside Motion 5
Aliso Viejo, California (PRWEB) February 20, 2015
Motion 5 plugin developers have announced a new tool entitled inMotion3D Projection from Pixel Film Studios.
"inMotion3D Projection allows users to transform a 2D image into a 3D world inside Motion 5." Said Christina Austin, CEO of Pixel Film Studios. "inMotion3D Projection blurs the line between professional and armature making this tool a definite game changer."
Motion 5 users can bring their 2D images to life with inMotion3D Projection from Pixel Film Studios. This plugin allows editors to map a photo of an alley, hallway or room onto a 3D environment in Motion 5. inMotion3D Projection also gives users the ability to add text, logos, or keyed footage to their 3D room.
inMotion3D Projection requires the latest version of Motion 5. Mac Mini and Macbook Air computers with Intel graphics cards are not compatible with this plugin.
inMotion3D Projection allows Motion 5 users to project a 2D image onto a 3D room. Then with a 3D camera, editors can pan, tilt, and dolly around their environment to observer it from unique and interesting perspectives. inMotion3D Projection is a great tool for turning a stagnant photo into a fun and engaging journey.
Motion 5 editors can take total control of their environment. With easy-to-use sliders and controls, they can adjust the depth, width, and height of their room. Then, users can manipulate the position and rotation of the guidelines to match the perspective lines in their scene.
inMotion3D Projection is a powerful tool that can help editors create 3D title sequences quickly in Motion 5. With designated presets, users can add logos, text, or keyed footage to their scene that can interact with their environment in 3D space.
inMotion3D Projection was professionally designed by the team at Pixel Film Studios for Motion 5. As an Motion 5 generator, this tool can be dragged-and-dropped onto the timeline and filled with a still image. inMotion3D Projection also contains easy-to-use controls built into the Motion Inspector that allow users to customize their environment quickly.
Established in 2006, Aliso Viejo, California-based Pixel Film Studios is an innovative developer of visual effects tools for the post-production and broadcast community. Their products are integrated with popular non-linear editing and compositing products from Apple FCPX. All Apple, the Apple logo, Mac OS X, and Macintosh are registered trademarks of Apple Inc. in the U.S. and/or other countries. All other trademarks and trade names are the property of their respective owners.