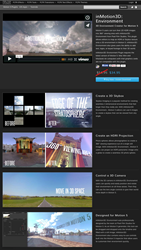 inMotion3D Environment is an exciting tool that turns a 2D HDRI image into 360° viewing area inside Motion 5
Aliso Viejo, California (PRWEB) March 03, 2015
Motion 5 developers have announced a new animated effect entitled inMotion3D Environment from Pixel Film Studios.
"inMotion3D Environment is an exciting tool that turns a 2D HDRI image into 360° viewing area inside Motion 5" said Christina Austin, CEO of Pixel Film Studios. "inMotion3D Environment blurs the line between professional and amateur making this plugin a definite game changer."
Motion 5 users can turn their 2D HDRI images into 360° viewing area with inMotion3D Environment from Pixel Film Studios. This plugin allows editors to map an HDRI or Skybox texture onto a 3D environment in Motion 5. inMotion3D Environment also gives users the ability to add text, logos, or keyed footage to their 3D world.
Skybox Imaging is a popular method for creating seamless 3 dimensional environments that feel larger than they really are. With inMotion3D Environment , Motion 5 editors can use 6 images to create a skybox that can be viewed from any angle.
Photo spheres allows photographers to create a 360° viewing experience out of a single still image. With inMotion3D Environment , Motion 5 users can project an HDRI panoramic image onto a globe to create a seamless 3D photo sphere.
With the 3D camera in inMotion3D Environment users can quickly and easily position and rotate their environment on all three axises. Then they can use the lens angle controls to give their world more depth in Motion 5.
inMotion3D Environment was professionally designed by the team at Pixel Film Studios for Motion 5. As an Motion 5 generator, this tool can be dragged-and-dropped onto the timeline and filled with a still image. inMotion3D; Environment also contains easy-to-use controls built into the Motion 5 Inspector that allow users to customize their environment quickly.
Established in 2006, Aliso Viejo, California-based Pixel Film Studios is an innovative developer of visual effects tools for the post-production and broadcast community. Their products are integrated with popular non-linear editing and compositing products from Apple FCPX. All Apple, the Apple logo, Mac OS X, and Macintosh are registered trademarks of Apple Inc. in the U.S. and/or other countries. All other trademarks and trade names are the property of their respective owners.