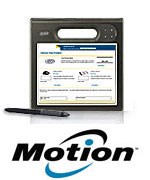 The In-Vehicle Solutions are designed to take advantage of limited space to improve worker productivity and reduce driver distraction to help keep workers safe.
Chandler, AZ (PRWEB) October 15, 2013
Group Mobile, well known for carrying the top brands in rugged laptops, rugged tablet PCs, rugged smartphones, and rugged handheld computers has extended its product offerings to include the newest F-Series rugged tablet computer from Motion and new Motion In-Vehicle Computing Solutions for the F-Series rugged tablet computers.
The new Motion F5te is an innovative tablet computer designed to meet the needs of field service and mobile professionals. The Motion F5 weighs only 3.3 pounds and features a durable design to protect against environmental conditions and accidental situations. The Motion F5te tablet increases worker efficiency and productivity by enabling constant, real-time communications while in the field. It allows workers to keep track of important documents and manuals, take and store pictures, fill out forms, capture signatures, email documents to the office, and more.
The Motion F5te rugged tablet PC comes standard with several features such as a built-in ergonomic carrying handle, fingerprint reader, integrated digital cameras (rear 3.0MP camera and front 1.3MP web camera), and integrated Bluetooth®. Optional features on the F5te include Gobi 3K mobile broadband, radio frequency reader (RFID), SmartCard reader, barcode scanner, and GPS module.
The 10.4" display on the Motion F5te offers a 10-point touch panel with durable Gorilla Glass. Motion's optional View Anywhere® technology for outdoor visibility gives users the advantage of an industry-leading display optimized for mobile environments.
Motion's new software, SNAPWORKS by Motion is included on the F5te tablet. SNAPWORKS is an intuitive, touch-based camera application that provides mobile workers an easy way to capture, annotate and share images. And, the just released Multi-Bay Battery Charger accessory charges up to five batteries at the same time. The charger is ideal for multi-user work group that facilitates a team-based, pooled work environment.
To learn more and order the Motion F5te, visit http://www.groupmobile.com/product.asp/sku=3392/dept_id=/mf_id=62/Motion+F5+Semi+Rugged+Tablet+PC.html.
The Motion In-Vehicle Computing Solutions for the Motion F5-Series tablets are designed with safety, space, and ergonomics in mind. In-Vehicle Solutions include a range of docks, mounting devices, and computing accessories that meet safety and performance standards required by fleet managers at law enforcement, first responder, utility, and other field service organizations.
Motion In-Vehicle Computing Solutions feature a Tilt & Rotate Mount designed for dashboard-mounting. This mount features a modular design that works perfectly with Motion's low profile F-Series tablets, offering flexibility and user comfort with a wider range of adjustment angles. The Mount provides smooth movement around two axes, allowing the tablet to be easily positioned for the driver or passenger. Built-in motion sensors limit the use of computer displays while the vehicle is in motion to reduce driver distraction. To learn more and order the Motion In-Vehicle Computing Solution for the Motion F-Series tablets, visit http://www.groupmobile.com/product.asp/sku=6909/dept_id=163/Motion+F-Series+Tilt+%26+Rotate+In-Vehicle+Mounting+Solutions.html.
"We are pleased Group Mobile has added our new F5te tablet and our In-Vehicle Computing Solutions to its product line," said Darla Ericson, Regional Territory Manager for Motion Computing. "Group Mobile's understanding of the mobile computing market paired with the company's outstanding customer service will help both companies enhance their mobile computing businesses."
"We expect Motion's new F5te rugged tablet and Motion In-Vehicle Computing Solutions to be very well received among our highly mobile customers," stated Stephanie Kreitner, Marketing Director for Group Mobile. "The In-Vehicle Solutions are designed to take advantage of limited space to improve worker productivity and reduce driver distraction to help keep workers safe."
To learn about all of the Motion Computing rugged tablets and mobile solutions Group Mobile offers, visit http://www.groupmobile.com/brand.asp/mf_id=62/Motion+Computing.html.
About Group Mobile
Headquartered in Phoenix, AZ, Group Mobile serves customers all over North America. Customers range from Fortune 500 companies and the U.S. Military, to local police/fire/ambulance, to small and mid-size businesses, to the frequent traveler that needs something more durable than a commercial, off-the-shelf computer. Group Mobile carries all the leading rugged computing brands. In addition, Group Mobile offers vehicle docking and mounting equipment. To learn more about rugged computers and how they differ from commercial, indoor computers, check out the Rugged Computer Guide or visit us online at http://www.groupmobile.com.
About Motion Computing
Motion Computing, headquartered in Austin, Texas, produces slate tablet PCs for mobile professionals in industries including healthcare, government, and field force automation. Motion is a mobile computing and wireless communications leader, combining world-class innovation and industry experience so individuals can use computing technology in new ways and places. The company's enhanced line of tablet PCs and accessories are designed to increase productivity for on-the-go users while providing computing security, power and versatility.