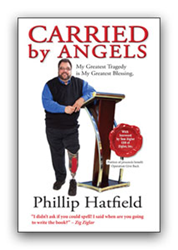 can you see yourself at the goal line?
(PRWEB) May 09, 2014
Why is Phillip the perfect motivational or keynote speaker for your next meeting?
Well, because he is dynamic, fun and authentic! Invite this motivational and keynote speaker from the Dallas area in for your next business meeting, year-end event or banquet and prepare to be fired up by his inspirational experiences and gripping storytelling!
He has the experience and passion
Phillip Hatfield is a powerful and inspiring speaker with a glowing personality and huge smile. He is a successful businessman, author and business coach with the Zig Ziglar Corporation.
He has worked with some of the world's most influential corporate leaders and businesses, building a reputation as the "Turn Around Guy" because of his knack for bringing businesses back from the brink of failure by helping them to change their culture to a positive win/win environment. Although Phillip has assisted multi-billion dollar companies and national associations, the work he finds the most fulfilling is helping small companies and Mom and Pop businesses.
His life experience has made him a powerful keynote speaker
Phillip's background played a pivotal role in him becoming such a powerful and dynamic speaker for businesses and schools as well as faith-based communities.
He worked at his dad's construction company as a teenager and later moved into the hospitality industry. By age 26, he became the youngest General Manager and Vice President of Ramada Hotels, the five-star hotel system for Barker Enterprises.
After a devastating fire at a hotel in Fort Worth Texas where 5 people died and 33 were seriously injured, he was selected to take on the enormous task of rebuilding the hotel. His job was not only to fix the structure itself, but to also assist the employees in recovering their morale.
During this time, no task was beneath him. He worked side-by-side with the construction team, front line staff and back of the house employees, whether it was washing dishes, making beds, waiting at tables or cleaning hotel rooms. He made himself the standard for teamwork, choosing to lead, inspire and motivate from within.
The results from this strategy were exceptionally rewarding, as the hotel's revenue went from $20,000.00 a month to over 12 million dollars a year in just four years, even gaining the contract to host the Ms. Texas Beauty Pageant for three years in a row!
In addition to this, Phillip has researched and designed processes and products for flooring and construction companies nationwide, developing and marketing products that are still being sold from the Southwest to the Midwest.
An inspirational church and faith-based speaker, Phillip offers guidance and encouragement to men's groups, youth groups, churches and schools. His priorities are simple: faith, family and friends.
Phillip has become an expert transformer, overcoming the barriers and obstacles he describes in "The Challenges of Change" after a recent accident left him fighting for his life and resulted in him becoming an amputee.
As a disabled man, Phillip had to readjust and create a new life for himself, overcoming challenges in the home as well as in business. This experience has taught him what we all need to know about facing challenges and breaking down the barriers that hold so many of us back.
His powerful and inspiring lesson to us is that our greatest tragedies can be our greatest blessing. Changes in our lives create opportunities for new strategies are born while communication opens up new ways to embrace the challenges and struggles in our lives.
His presentations are grounded and insightful
Known for his ability to connect with any audience, Phillip delivers powerful and original content built on his own breakthrough research that he customizes for each presentation.
From his experiences doing grunt work to his days spent in the boardroom, his executive leadership is as obvious as it is captivating. Whatever your industry, Phillip is able to identify with your group and deliver new and exciting insights that will rejuvenate each and every individual. From the CEO to the janitor, he can deliver the same passionate, relevant message.
His aim is to equip you and your group the valuable tools you need to take action. His down-to-earth, relatable speaking style includes a strong mix of humor and realism that entertains as he educates and inspires.
Looking for a motivational speaker who can deliver an inspiring, educational and memorable talk that will captivate the audience? Contact Phillip Hatfield today.
Find out more about this incredible motivational speaker

https://www.facebook.com/PhillipHatfieldSpeakerAuthor
http://www.linkedin.com/pub/phillip-hatfield-speaker-author/16/3ab/a41/
http://www.ziglar.com/speakers/phillip-hatfieldziglar-motivational-speaker