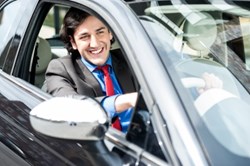 It is not uncommon for a person's age, vehicle buying history, credit rating or other non-automotive factors to be considered by companies issuing policies
Sandusky, Ohio (PRWEB) September 03, 2013
Warranty programs to protect used vehicles can fluctuate in price for vehicle owners. The Auto Pros USA company is helping vehicle owners with its new motor vehicle services warranty program online at http://www.autoprosusa.com/auto-warranty. This program is now live online and links car owners with providers of used car warranty policies.
"The launch of our warranty program is a new concept apart from our standard automotive services online," said a company spokesman for the Auto Pros company.
Millions of used vehicle owners often drive without coverage due to the increased cost of protecting a vehicle with high mileage.
Many companies base the actual policy price around the age of a vehicle as well as the existing mileage on the engine block when a vehicle is purchased.
The 100,000-mile mark used to be benchmark that was used to determine if a vehicle was suitable for warranty coverage, according to the Auto Pros USA website. Companies providing used vehicle warranties are now taking more factors into consideration when applying a policy to a specific vehicle type.
"It is not uncommon for a person's age, vehicle buying history, credit rating or other non-automotive factors to be considered by companies issuing policies," the spokesman added.
Vehicle owners who seek warranty policies while living in a high crime area could pay more in annual premium costs compared to a person in a low crime neighborhood. The search database posted online offers instant price quotes for short and long-term policies for warranty protection for any car, pickup truck or sport utility vehicle.
The direct access provided to these hundreds of companies online offering warranty policies requires no submission by car owners of personal information. Vehicle basics are the only criteria used to offer the initial quote. A person who chooses to purchase a policy could further negotiate the rate based on submitted information to companies.
About AutoProsUSA.com
The AutoProsUSA.com company helps car owners to find vehicle insurance policies as well as extended warranty plans for used vehicles online. This company is known for creating a searchable junkyards database last year online. The success of this database has caused the need for additional databases that consumers can access. The AutoProsUSA.com company offers its toll-free assistance number for all consumers with parts questions, insurance information or other needs offline. All content published by this company is accurate at time of publication and daily updates are processed for all content.