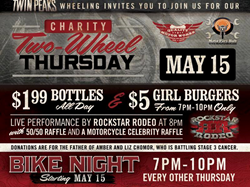 It's always great when local area riders can get together for a great cause, listen to live music and eat some good food all in the parking lot.
Wheeling, IL (PRWEB) May 12, 2014
Moto Part Hub & Quality Motor Works are proud to announce 2 wheel Thursday Bike Nights that are hosted at Twin Peaks Bar & Grill located in Wheeling. Bike Nights will be kicking off on May 15th and will be running throughout the summer on every other Thursday going from 7-10 pm. For the first bike night there will be great food & drink specials such as $5.00 girl burgers & $1.99 bottles, live music by Rockstar Rodeo, and a 50/50 raffle with proceeds benefiting a local area resident who is currently battling cancer.
The staff of the Moto Part Hub is extremely excited to kick these events off. "It's always great when local area riders can get together for a great cause, listen to live music and eat some good food all in the parking lot," said Lorman of the Moto Part Hub. They will also be bringing some of the latest in motorcycle gear & apparel from top vendors from all around the country. Quality Motor Works will also be in attendance for service & repair tips, and will even be able to set up a service appointment right on the spot if your vehicle needs repair work.
Moto Part Hub, which is part of the Hub Companies, has several retail internet websites that carry parts & accessories for everything from cars, motorcycles, snowmobiles to specialty hard to find lubricants. The motoparthub.com sources entire catalogs from brand name products, to get motorcycle riders the parts they are looking for at the prices they can afford. From wheels & tires, windshields, brake pads, handlebars, grips, helmets, forward controls, seats, exhaust systems to batteries they carry it all. Carrying top brands such as Bikers Choice, Parts Unlimited, LA Choppers, Icon, they are sure to have the parts & accessories motorcycle enthusiasts are looking for. If customers don't see what they are looking for, Moto Parts Hub staff will be more than happy to get it for them within a few days. Also, if your local to the Chicagoland area, make sure to stop by there retail location which is located at 600 North Waukegan Road, Unit 102. Northbrook, IL. 60062
Both companies have teamed up with Twin Peaks in Wheeling to host the event. Twin Peaks offers everything you crave and more. From homemade comfort food that is made entirely from scratch, draft beer served at an ice cold 29 degrees & not to mention the friendly and attentive Twin Peaks Girls.
Motorcycle riders from the Chicagoland & southern Wisconsin areas are also encouraged to bring their families along. Twin Peaks will be offering free food and drinks to kids under 12 (with one regular meal purchased) along with face-painting, to make it a fun event for all. "This event is for everyone, scooters, Sportbikes, cruisers are all welcome. Even if you don't own a motorcycle, feel free to come up and have a great time," stated Sanders of the Moto Part Hub.
Twin Peaks is located at 781 N. Milwaukee Avenue, Wheeling Illinois 60090. For further questions please contact The Moto Part Hub at 847-790-4848.