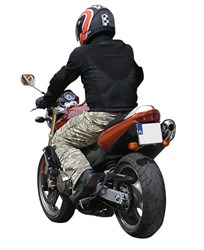 We're removing the hard work that riders go through when evaluating companies by providing multiple company quotes and direct access to pricing without requiring phone interviews
Orlando, Florida (PRWEB) October 03, 2013
Ways to obtain quotes for insurance policies online have changed in the past decade as more companies are releasing data to the public. The Auto Pros company has launched its insurance finder program this year and now includes a motorcycle insurance quote tool online at http://autoprosusa.com/motorcycle-insurance.
This new tool offers instant access to motorcycle owners to review quotes and policies without entering their personal data online. This private system includes data that is sourced through broker companies based on zip code information submitted from bikers.
This exclusive system was built to provide an unbiased resource for presenting unpublished insurer price data online.
Some estimates reveal that insurance for motorcycles can start at $75 for a one-year policy. Many companies offering these low rates online do not provide coverage for accessories and other valuables, according to the Auto Pros reports online.
The provider database now accessible allows instant lookup for liability and full coverage policy providers in the U.S.
"We're removing the hard work that riders go through when evaluating companies by providing multiple company quotes and direct access to pricing without requiring phone interviews," a source for the Auto Pros USA company added.
The range of providers that are now found in the database accessible online are able to extend coverage for more than one brand of bikes used in the U.S. Some companies can place restrictions on the type of motorcycles that can be covered under a basic policy. The instant quotes are now a helpful way to introduce the expanded range of insurers offering coverage.
"Our motorcycle quotes system is part of an insurance offering of car, truck, SUV and other vehicle types for owners of vehicles unhappy with their current policy or who are seeking quotes for comparisons."
The insurance quotes access for riders is now in competition with the standard insurance rates database announced earlier this month. The full coverage and liability policies that are now offered at http://www.autoprosusa.com/insurance are helping drivers to compare company pricing or policy declarations using this online tool.
About AutoProsUSA.com
The AutoProsUSA.com company has grown into a large resource to find car, motorcycle and other insurance types easily online. This company researches insurers in North America to present this information in an unbiased way to the general public. The AutoProsUSA.com series of databases have been launched this year to make researching automotive services simpler. The company access to the insurance, warranty and auto parts database search finders is one way that this company is giving back to the general public to create error-free ways of finding pricing and informative data before purchasing auto industry products online.