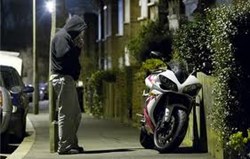 Motorcycle riders are not only subjected to extra dangers while riding, they are also an easy target for thieves. The experts at SecuritySystemReviews.com have provided a great list of tips to keep motorcyclist safe.
Atlanta, Georgia (PRWEB) October 11, 2013
Motorcycle ownership is not only a favorite hobby but also a leading form of transportation for many people throughout the country. Riding a motorcycle can be an incredibly enjoyable experience, but it also comes with a unique set of responsibilities in terms of safety and security.
The security professionals at SecuritySystemReviews.com, a provider of reviews of the best security systems, including ADT Security reviews, created a list of tips for motorcycle enthusiasts to enjoy the vehicles with the highest possible level of security and safety.
1. Wear a helmet at all times. Ideally, the helmet should also have a face shield or protective eyewear should be worn. Many motorcycle riders avoid wearing protective headgear, but wearing a helmet makes a rider five times less likely to experience a severe head injury, as compared to a rider without a helmet.
2. Always practice defensive driving techniques. Many motorcycle riders assume that other drivers are able to see them, and most accidents are the result of motorcycle riders being located in the blind spot of another driver. It's important that individuals riding motorcycles avoid the blind spots of other vehicles and give signals well in advance before making a turn or other maneuver.
3. Consider installing a security system. Because of their size, motorcycles are an easy target for thieves. A motorcycle security system can guard against theft and make the vehicle more secure.
4. Always follow the rules of traffic. Many motorcycle operators feel as if they are above the traffic laws but it's even more important for motorcycle drivers to carefully follow all traffic laws and speed limits.
5. When parking, always select a secure, well-lit area. If an area is dark or seems suspicious, the best rule of thumb is find another location in which to park.
6. Always use a strong and high-quality lock on chain on motorcycles. It's best to secure a lock using the bike frame, instead of the bike wheels, because wheels can be more easily removed by thieves.
7. Wear appropriate gear when operating a motorcycle. There is a variety of types of clothing and gear that can be worn by motorcyclists to reduce the risk of injury in case of accident including, leather clothing, gloves and non-skid boots. If driving at night, it may also be a good rule of thumb to wear clothing that has some type of reflective tape in order to make it easier for other drivers to see.
About SecuritySystemReviews.com
SecuritySystemReviews.com is the top provider of information about the security industry. The site provides comprehensive reviews of the best security system companies and equipment in the country, including wireless security system reviews and DIY home security systems. Additionally, the site provides consumers with coupons and valuable discount codes for the purchase of security systems.