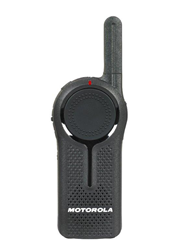 The Motorola DLR digital two-way radios are an affordable, reliable, functional and feature-filled business communication tool
Parker, TX (PRWEB) August 25, 2015
Radio Waves, a nationwide Motorola authorized two-way radio reseller, announced that it is now carrying Motorola's revolutionary new DLR digital two-way radios.
The Motorola DLR digital two-way radios are ideal for businesses in a variety of sectors and verticals, including healthcare, education, retail, hospitality and many more. They offer ultra long-range and clear communication indoors and outdoors, covering up to 300,000 square feet and 20 floors. They also deliver extraordinary audio clarity and operate in the 900 MHz ISM, and feature lightweight design that allows staff to carry radios easily and conveniently on their belt, in their pocket, or in their purse, briefcase or bag.
"The Motorola DLR digital two-way radios are an affordable, reliable, functional and feature-filled business communication tool," commented Kelly Madonna, President of Radio Waves.
Other key features of the new DLR Digital two-way radios include:

Lower TCO: license-free operation means businesses will not have to pay for regulatory licenses and administrative fees.
Faster ROI: the radios allow staff to instantly connect with other departments to get answers for customers.
Simple operation: staff requires no training; they simply pick up a radio and start communicating.
User friendly voice prompts: staff can access simple navigation menus to check and change menus, channels, battery status, and more.
Lightweight design: staff can easily wear the radio on their belt or in pockets, without having it interfere with their face-to-face communication with customers.
Enhanced privacy: the radios use Frequency Hopping Spread Spectrum (FHSS) technology and feature a private reply option.
Multiple calling features: the radios feature direct call, call all available, instant mute, talk permit tones, home channel.
Extended battery life: the radios feature long 14-hour battery life.
Durable design and extra protection: the radios feature rugged and durable design, as well as built-in antimicrobial protection.
More information on the groundbreaking new DLR Digital two-way radios can be found on the Radio Waves website: http://www.twowayradiowaves.com.
About Radio Waves
Headquartered in Parker, Texas, Radio Waves serves customers throughout the U.S. We focus on stellar customer service to best fit a customer's communications needs and are able to provide ongoing superior technical support. As an authorized Motorola business two-way radio reseller, we are able to provide Motorola's industry-defining products.
MOTOROLA, MOTO, MOTOROLA SOLUTIONS and the Stylized M Logo are trademarks or registered trademarks of Motorola Trademark Holdings, LLC and are used under license. All other trademarks are the property of their respective owners. ©2015 Motorola Solutions, Inc. All rights reserved