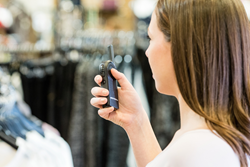 Dallas, TX (PRWEB) January 14, 2016
The 2015 holiday crush and rush is over! And while this holiday season is a memory, it's time for retailers to plan for a successful 2016 by optimizing profitability and minimizing losses. As any retailer knows, while theft and loss is usually greatest during the holidays, shrinkage knows no season and is a constant challenge year-round.
To help minimize shoplifting losses and property damage while increasing customer service, BearCom, the nationwide leader in two-way radio (walkie-talkie) communications equipment and solutions, offers a few suggestions for retailers. "Year round, instant communication with store personnel is one of the most critical aspects of loss prevention," said Hugh Johnston, Product & Purchasing Manager at BearCom. "Two-way radios can discretely and effectively connect floor personnel with management and security to sound an alert or summon assistance. More than $100 billion worth of merchandise is stolen from retailers every year. That's about 1.5 percent of retail sales, just in the United States."
One of the most effective ways to prevent losses is to have a vigilant and visible staff in constant communication. Effectively collaboration using two-way radios provides many key and immediate benefits:
1. Two-way radios with earpiece accessories enable quiet and discreet communication that don't bring attention to the situation.
2. Two-way radios communicate alerts so staff can closely monitor suspicious individuals.
3. Two-way radios can summon others to create a strong presence that not only deters shoplifting, but can also prevent expensive vandalism and property damage.
4. Two-way radios speed security action, and since many stores have policies on whether to pursue shoplifters, early detection provides more response options.
In addition, two-way radios provide two other enormous benefits not ordinarily considered part of a traditional loss prevention programs:

Improved Customer Service. An easy way to request stock checks, price checks or summoning a manager when there is a problem, all adds to customer satisfaction and can boost the size of the sale.
Faster Lost Child Response. Losing merchandise is bad enough, but the thought of a missing or kidnapped child in your store is especially frightening. A staff-wide two-way radio alert can enact your action response plan instantly while saving precious seconds that could be critical.
"I'm proud that Motorola Solutions is taking a leadership role in helping retailers overcome their communication challenges. With shrinking retail profit margins, the DLR digital two-way radios are cost-effective, and small yet powerful. For a minimal investment, these radios will ultimately improve in-store communication to help prevent losses and lead to more bottom-line profitability."
Among the key features that Johnston and the BearCom team noted with the DLR digital two-way radios include:
The new radios allow staff members to immediately respond without having to leave their customers' side.
License-free operation, retailers pay no regulatory licenses or administrative fees.
The radios are designed for easy operation, great for training new employees to get them on the retail floor serving customers sooner.
The DLR digital radios deliver an extended reach for clear communications, both indoors or outdoors, covering up to 300,000 square feet/20 floors.
With a sleek and lightweight design, the staff can wear it conveniently on their belt or carry in their pocket.
Johnston said two other series radios from Motorola Solutions are especially well suited for retailers. He listed the Motorola CLS series and the Motorola CLP series. The CLS series is a small, wearable communications solution, an excellent choice for churches, retailers and smaller footprint businesses. The sleek and palm-sized CLP series allows for professional and discreet communications.
For more information about Motorola DLR, CLS, and CLP Series two-way radios for retailers, please visit http://www.BearCom.com or call 800.527.1670.
About BearCom
BearCom provides a broad line of high-performance two-way wireless communications products, rental, services, and complete mobility solutions. Founded in 1981, BearCom is America's only nationwide dealer and integrator of wireless communications equipment and solutions, serving customers from 30 branch offices located throughout the U.S. BearCom, headquartered in the Dallas, Texas area, employs approximately 360 people. BearCom has been designated as a Motorola Solutions Service Elite Specialist.
MOTOROLA, MOTOROLA SOLUTIONS and the Stylized M Logo are trademarks or registered trademarks of Motorola Trademark Holdings, LLC and are used under license. All other trademarks are the property of their respective owners. ©2016 Motorola Solutions, Inc. All rights reserved