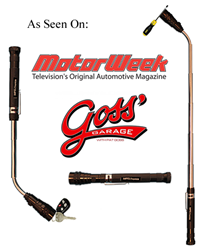 Light the Way
Lewisberry, Pa (PRWEB) November 20, 2013
Impeltronics announces the endorsement of the Telescoping Magnetic Flashlight by Motorweek and Goss' Garage. The market today offers all sorts of products; whether it is for professional mechanics and technicians, "weekend warrior" home owners and car enthusiasts or just everyday hobbyist. There comes a time when someone drops that much needed metal object into a place that's hard to reach and hard to see. One of the things that immediately come to mind, that is already on the market, is the telescoping magnet. Without a doubt, there are plenty of LED Flashlights out there too. Wouldn't it be nice if there was an LED Telescoping Magnetic Flashlight conveniently combined into one tool?
IMPELtronics offers such a product that should be in everyone's car, house or shop. But don't take the companies word for it, take a few minutes to watch and listen to the video through the link provided. Let Goss' Garage shed some light on the subject to add an opinion. After all, isn't it important to get a second opinion?
IMPELtronics, a wholesale manufacturer of high quality high lumen LED Flashlights, offers everyone a "strategic advantage against the darkness". Whether in search and rescue, hunting and fishing or in need of lighting in any application, IMPELtronics invites everyone to "Light the Way".
To view the video please click here: https://www.youtube.com/watch?v=UKITB6LBhRw.
To learn more about the product click here: http://www.impeltronics.com/products/extendable-telescoping-magnetic-flashlight/.
Media Contact
Michael Pastal
717-440-1680
mpastal(at)impeltronics(dot)com