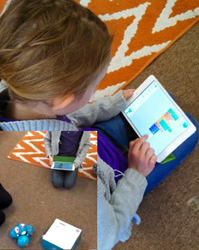 Bringing coding to the elementary school was the next logical step given that our students take required classes in robotics and programming at the middle school and high school levels
Manchester, NH (PRWEB) May 04, 2015
Mount Zion Christian Schools, a Christian educational institution in New Hampshire, recently announced the launch of its new curriculum that brings computer coding skills down to the elementary school level. The school, which brought coding to its students through Dash, a programmable robot for children, helps students learn real life-skills through these activities.
According to a spokesperson of Mount Zion, the school's first graders start learning coding skills through "coding unplugged," a graph paper programming activity that introduces them to programming basics and algorithms. Additionally, in second grade, the students start coding with a language called "scratch," which was developed by the Massachusetts Institute of Technology (MIT). "Scratch" teaches the children how to work with loops and conditionals.
"Bringing coding to the elementary school was the next logical step given that our students take required classes in robotics and programming at the middle school and high school levels," said Bob Carter, the Headmaster of Mount Zion. "This year we had two 8th graders complete programming courses at Harvard University and MIT through massive open online courses (MOOCs) at edX, an organization created by MIT and Harvard University to develop an open-source technology platform to deliver online courses. Everyone won't be a programmer, but coding teaches the important universal skills of critical thinking, problem solving and perseverance."
Since opening its doors, Mount Zion has strived to provide its students with an academically challenging and Christ-centered community that equips them with world views that help them achieve excellence. The school is very involved with its students and their communities, and offers classes in academics, arts, and athletics. Mount Zion serves students in grades Pre-K to 12 and uses the "Intentional Schools" model, which uses technology and direct teaching to improve student learning.
Individuals interested in learning more about Mount Zion and its educational opportunities can visit the school's website for additional information.
About Mount Zion:
Mount Zion Christian Schools offer quality Christian education in grades Pre-K to 12 in Manchester, New Hampshire. With relationships, academic excellence and high-end technology as hallmarks, Mount Zion is changing Christian education today. Our teachers employ the "Intentional Schools" model, using technology with direct teaching to improve student learning. For more information, please visit http://www.mountzionnh.org