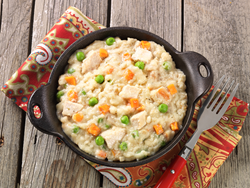 These two classic American comfort foods are the only ones of their kind available in the dried camping food space
Albany, Oregon (PRWEB) May 19, 2016
Mountain House, the top selling brand of camping food in North America, has introduced two new entrees for 2016: Homestyle Chicken Noodle Casserole, and Chicken & Dumplings. All three items are unique offerings in the outdoor recreation and emergency preparedness markets.
"Like always, we asked consumers what recipes they wanted us to make for 2016 and we've delivered," says Brandy Lamb, Senior Brand Manager at Mountain House. "The large retailers we've shown these to have been very excited. Everyone is expecting these to be big sellers."
These two classic American comfort foods are the only ones of their kind available in the dried camping food space. They are the only ones that only require nothing more than adding hot water to the pouch.
"We have unique technical capabilities and expertise at Mountain House. That's why our Chicken and Dumplings, and Homestyle Chicken Noodle Casserole don't require separate cooking pans to make them," remarks Lamb. Both entrees feature no-mess and are ready to eat in under 10 minutes.

Chicken and Dumplings: Made with real chicken meat, carrot dices, green peas and real dumpling pieces
Homestyle Chicken Noodle Casserole: Made with real chicken, mushrooms, celery, and green peppers in a rich cream sauce.
These new items are currently available on Mountainhouse.com and are rolling out to retailers nationwide.
About Mountain House
Based in Albany, Ore., Mountain House has been the first choice of backpackers, hikers, campers and emergency preparation experts for nearly 50 years. Why? Great taste, ease of use and reliability, no matter how extreme the environment. As a result, Mountain House commands roughly 70 percent of the outdoor freeze dried meal market according to the Outdoor Industry Association. Their line of meals in pouches have a proven shelf life of 12+ years. Foods in their #10 cans have a proven shelf life of 25+ years. For more information and a complete list of products, visit http://www.mountainhouse.com.