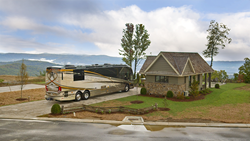 ...The result, The Ridge at Mountain Falls, is truely a piece of art.
Lake Toxaway, NC (PRWEB) October 16, 2014
Mountain Falls Luxury Motorcoach Resort opened The Ridge to Motorcoaches for the first time Friday, October 10, 2014. A 2015 Liberty Coach Elegant Lady was the first to drive on Mountain Falls Club Drive and park on the pad next to the resort's first coach cottage. This was a significant milestone for Mountain Falls Partners having begun the development project in April of 2013.
During the past 18 months, Mountain Falls excavated 17 acres of land for their 86 over-sized motorcoach lots and constructed a state of the art sewer plant for private use by The Ridge at Mountain Falls. The project required displacement of over 200,000 tons of rock, construction of over 2500 linear feet of stone walls, installation of miles of electrical cable, sewer lines, fresh water plumbing and Wi-Fi connectivity. Full utility hook-ups with lighted pedestals have been installed on several lots and will be ready for use by their property owners upon final inspection by the State of North Carolina, scheduled to occur this month.
"I have been in the engineering, excavating and development business for over 30 years. The level of complexity and engineering expertise required to make this project work successfully is like none I have seen before," said Marty Kocot, President of LandWorks Engineering, PLLC.
"This was a complex project. Between massive rock, steep grade, storm drainage infrastructure, and sewer plant development, this project, while small in terms of total acreage relative to other resort development projects, was immense in the depth of knowledge, expertise and experience required," said Fritz Rybert, Managing Partner of Mountain Falls Partners, LLC. "To achieve the resulting quality construction on such a complex, yet breathtakingly beautiful property, required a team of experts that were the best in their field."
"Few would have the relationships required to pull off a project such as this. You have to hand it to Mountain Falls Partners. The result, The Ridge at Mountain Falls, is truly a piece of art," said John Davis, President of Mountain Falls Property Owners Association.
For more information about Mountain Falls Luxury Motorcoach Resort and The Ridge at Mountain Falls, please call (828) 966-9350, or email Marie Duginski at marie(at)mountain-falls(dot)com. Stay updated on the resort's latest news and announcements by visiting their website at http://www.mountain-falls.com, or by following their Facebook and Twitter pages. Mountain Falls is located at 20 Resorts Blvd., Lake Toxaway, NC 28747.
About Mountain Falls Partners, LLC:
Mountain Falls Partners, LLC is a North Carolina Company formed in 2012 for the marketing and development of luxury motor coach resorts. It is a collaboration of award winning partners with over 35 years of experience in their said area of expertise: architecture and design, community and luxury development and luxury services and resort marketing.