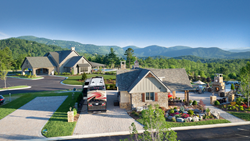 Lake Toxaway, NC (PRWEB) June 25, 2015
Mountain Falls Partners, LLC reports they are experiencing extremely high guest reservation volume with 2015 revenue up over 220% for the same period the previous year. Number of nights booked is up over 45% with individual reservations up 15%, indicating guests are booking reservations for a longer period of time than seasons past.
Mountain Falls Partners attributes the attraction of the marketplace in part to the completion of the brand new clubhouse, amenities and several coach cottages on The Ridge. With the addition of their astute hospitality services, each guest is welcomed, well informed of events and activities onsite and in the area, and engaged in outdoor pursuits and group outings. Also new to Mountain Falls this season is their prepackaged "Weekend Getaways" which highlights many enticements of the resort and the surrounding area.
"We started the season with high sales volume, and it was our hope that resort interest would continue to remain high throughout the season. With these record setting reservations it appears our hopes are being realized which makes for a very exciting year ahead," said Lisa Tolzman, General Manager.
For more information about Mountain Falls Luxury Motorcoach Resort and The Ridge at Mountain Falls, please call (828) 966-9350, or email Marie Duginski at marie(at)mountain-falls(dot)com. Stay updated on the resort's latest news and announcements by visiting their website, or by following their Facebook and Twitter pages. Mountain Falls is located at 20 Resorts Blvd., Lake Toxaway, NC 28747.
About Mountain Falls Partners, LLC:
Mountain Falls Partners, LLC is a North Carolina Company formed in 2012 for the marketing and development of luxury motorcoach resorts. It is a collaboration of award winning partners with over 35 years of experience in their said area of expertise: architecture and design, community and luxury development and luxury services and resort marketing.