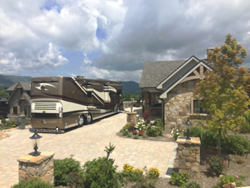 All the necessary components are in place for this to be an outstanding year.
Lake Toxaway, NC (PRWEB) August 09, 2016
Mountain Falls started the 2016 season with record setting volumes in lot sales and reservation volume and the momentum has continued through the first half of their season. Sales contracts are up 75% year to date. The busiest months of the season are yet to come. With $4.46 million in contracts and still another four months to go, the season looks very promising.
For Mountain Falls the season has just gotten started with our biggest events yet to come. We have several themed events this month hosted by our generous property owners. Musical entertainment, activities and events as well as outdoor pursuits are scheduled weekly by our hospitality staff.
"Along with the lavish luxury of the amenities and the breathtaking mountain views, the abundant activities at the resort are largely responsible for creating high levels of enthusiasm and interest," said Eddie Sharp, Mountain Falls Realty Broker. Demonstrated by the 37% increase year to date in reservations, this growth rate is a continuation of the four-year record setting trend.
Scheduled yet this season are the resorts two largest events. "We are honored we have been selected to host several groups including the Prevost Prouds and a charity event benefiting Hope for the Warriors, The Skinner Round-Up, late in the season," said Marie Duginski, Mountain Falls Partners, LLC. "All the necessary components are in place for this to be an outstanding year."
For more information about Mountain Falls Luxury Motorcoach Resort and The Ridge at Mountain Falls, please call (828) 966-9350, or email Eddie Sharp at eddie(at)mountain-falls(dot)com. Stay updated on the resort's latest news and announcements by visiting their website, or by following their Facebook, Instagram and Twitter pages. Mountain Falls is located at 20 Resorts Blvd., Lake Toxaway, NC 28747.
About Mountain Falls Partners, LLC:
Mountain Falls Partners, LLC is a North Carolina Company formed in 2012 for the marketing and development of luxury motorcoach resorts. It is a collaboration of award winning partners with over 35 years of experience in their said area of expertise: architecture and design, community and luxury development and luxury services and resort marketing.