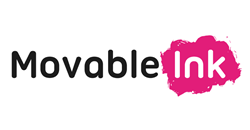 Our goal with these partners is to open up mobile's full potential both as a channel and robust data source to fuel even more targeted campaigns.
NEW YORK (PRWEB) October 29, 2019
Movable Ink, the visual experience platform provider for digital marketing leaders, announced today at its annual Think Summit the company's plans to expand into the mobile channel. As part of this initiative, the company has announced new partnerships with mobile marketing platform providers Airship, Braze, and Localytics. Movable Ink has also integrated with Branch to enhance the mobile app user experience through deep linking of dynamic content and to provide marketers with end-to-end attribution and performance tracking.
Movable Ink is working closely with these mobile industry leaders to develop native integrations and streamlined workflow for brands to deliver personalized visuals through in-app messages and push notifications. With this expansion, Movable Ink will enable brands to deliver personalized experiences in a channel where consumers are spending an ever-increasing amount of time. In 2019, for the first time, consumers will spend more time with their smartphones than TV, and 90% of that time will be spent in apps, according to eMarketer.
Currently in preview, Movable Ink's mobile solution is being leveraged by a number of early adopters to insert intelligent creative into mobile app messages. For example, the Minnesota Timberwolves are always looking for ways to elevate the fan experience through personalization. They wanted to replicate the home game pre-sale experience for their fans using the mobile app, but struggled to create a mobile-only experience.
"In web and email, we have a smooth customer journey from signing up for the pre-sale all the way to ticket purchase, but there was no way to do this within the mobile app because we couldn't send a notification to people who had previously taken a specific action," said Jena Magee, Email Marketing Manager at the Minnesota Timberwolves. "With Movable Ink & Localytics, we were able to create an in-app pre-sale experience that allowed users to sign up for the pre-sale, and receive a push notification once tickets went on sale."
Expanding into mobile is a natural next step in Movable Ink's "visual experiences anywhere" strategy. The company's platform combines a brand's creative assets with consumer and business data to automatically generate personalized visuals for marketing campaigns across digital channels. This move will expand Movable Ink's core solution for email, web, and display into mobile apps—a critical part of the overall consumer experience.
"Whether ordering coffee, checking flights, or shopping for clothes, mobile app users are highly engaged and ready to act," said Movable Ink CEO Vivek Sharma. "Mobile marketers have a significant opportunity, but the content bottleneck common in digital channels prevents them from delivering personalized visuals to every app user. Our goal with these partners is to open up mobile's full potential both as a channel and robust data source to fuel even more targeted campaigns."
Partner Quotes
Increasingly, consumer attention, wallet share and loyalty is paid to brands that provide optimal customer experiences — requiring marketers have the right solutions to meet customers' needs faster and more efficiently than ever," said Brett Caine, CEO and president, Airship. "Airship's integration with Movable Ink has already enabled multiple brands to expand personalization to visual assets delivered at scale in the precise moment it matters to each individual. Their early results are a clear demonstration of how Airship powers the best customer experiences by easily integrating with other leading marketing technologies like Movable Ink."
"Today, brands are struggling to create relevant experiences for consumers across all platforms and channels," said Myles Kleeger, President and Chief Customer Officer at Braze. "The expansion of Movable Ink into mobile will enable brands to leverage fresh visual content across more message types, leading to more cohesive and relevant campaigns that build stronger connections with customers."
"At Localytics, we help brands deliver engaging customer experiences driven by optimized personalization that leads to deeper, long-lasting relationships," said Stephen Mello, VP of Strategy and Product at Localytics. "By partnering with Movable Ink, we are enabling our customers to optimize an important part of the personalization equation -- the visual received in a mobile push or in-app message. By leveraging data and digital intelligence, this personalized visual can be delivered at the moment of engagement, ensuring the highest level of personal connection."
"In the age of digital personalization where mobile engagement is a must, Branch is excited to partner with Movable Ink to provide brands the ability to deliver the best experiences and content along with cross-channel attribution for all their campaigns," said Eric Stein, Chief Revenue Officer at Branch. "Brands are defined by the experiences they create, and we look forward to delivering more of them together with Movable Ink."
Availability
Movable Ink's mobile solution is planned for general release in early 2020. Current clients interested in learning more about Movable Ink's mobile preview should contact their client experience team.
About Movable Ink
Movable Ink helps digital marketers create visual experiences that move people. More than 700 of the world's most innovative brands rely on Movable Ink's visual experience platform to automate the creation of unique on-brand experiences for each consumer across email, web, and display. With more than 300 employees, the company is headquartered in New York City with offices in San Francisco, Chicago, and London. Learn more at movableink.com.
About Airship
Marketing and digital experience teams at thousands of the world's most admired companies rely on Airship's Customer Engagement Platform to create deeper connections with customers by delivering incredibly relevant, coordinated messages across channels.
Founded in 2009 as a pioneer in push notifications, Airship now gives brands the user-level data, engagement channels, AI orchestration and services they need to deliver push notifications, emails, SMS, in-app messages, mobile wallet cards and more to exactly the right person in exactly the right moment — building trust, boosting engagement, driving action and growing value. Learn more about our Customer Engagement Platform at airship.com.
About Branch
Branch provides the leading cross-platform linking and attribution platform, offering solutions that unify user experience and measurement across devices and channels. Branch powers mobile links and cross-platform measurement to more than 3 billion monthly users across the globe, and is a trusted cross-platform marketing, engagement, and measurement solution for over 50,000 apps — including Foursquare, BuzzFeed, Yelp, OfferUp, and many more.
About Braze
Braze delivers customer experiences across email, mobile, SMS, and web. Customers, including Citi Global Cards, Disney, Urban Outfitters, and Venmo, use the Braze platform to facilitate real-time experiences between brands and customers in a more authentic and human way. Braze is headquartered in New York with offices in London, San Francisco and Singapore. Learn more at braze.com.
About Localytics
Localytics is a digital intelligence platform for mobile and web engagement. Localytics gives brands the data, intelligence and marketing channels to deliver a meaningful, personal customer experience. We help brands discover and deliver exactly what their customers are passionate about, and integrate those insights and experiences across mobile and other channels to deliver a digital customer experience that resonates. Our platform is used in more than 37,000 apps on more than 2.7 billion devices by companies such as ESPN, Fox and The New York Times. We are headquartered in Boston, MA with offices in Berlin, San Francisco and London. Investors include Sapphire Ventures, Foundation Capital and Polaris Partners. Learn more at Localytics.com.