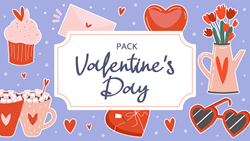 ST. LOUIS (PRWEB) February 13, 2019
The Movavi Effects Store is where users can buy sets, packs, and bundles of effects, stickers, titles, transitions, backgrounds, and music built around a particular theme. Users choose their effects to apply appropriate decorations to their videos, enhancing the creative atmosphere. This latest pack is devoted to the coming holiday.
The Valentine's Day Pack contains 6 titles, 8 stickers, 3 backgrounds, and 4 transitions. There is everything to create a captivating, fairytale video. Change the atmosphere in the video using romantic captions. Add sweet stickers to express loving feelings to partner, parents, and other relatives. On Valentine's Day, love is in the air.
To create a really appealing video, add unusual transitions with cute backgrounds and an artistic frame. Don't forget to use titles as captions at the end or as an introduction to the love story at the beginning. When endearing stickers with a pink bear, red hearts, flowers, or two cups of cocoa with marshmallow will be added, a smile will appear on the face of that special someone.
All of the Effects Store packs work with current versions of Movavi's software for Windows and Mac: Video Editor, Video Editor Plus, Video Editor Business, Slideshow Maker, Video Suite, and Screen Capture Studio. Just make sure, that the product version is appropriate for the chosen Effects pack. Older versions are not be supported. If an Effects set will be installed with one of Movavi's apps, that pack will be available to all the other compatible Movavi programs.