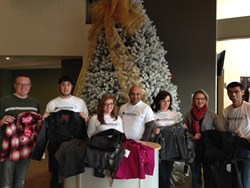 North Brunswick, NJ (PRWEB) January 19, 2014
The CEO of leading online relocation portal Movers.com recently donated winter coats to needy families with the help of a charitable church organization.
This holiday season, Movers.com purchased over 50 brand new coats from the Burlington Coat Factory and collected about a dozen lightly-used coats to donate to the Princeton Alliance Church in Plainsboro.
Movers.com CEO Vidya Garapati and several of his employees visited Princeton Alliance on December 20 to deliver the coats and meet with the Celebration Arts Pastor Joel Konigsberg, the Director of Operations Bonnie Gay, Global Outreach and Care Pastor Nate Karecesky, and Lead Pastor Boyd Hannold.
PAC plans to distribute the donated coats through their outreach program He Cares, We Care. The coats will be supplied to students in nearby schools and local homeless shelters throughout the winter season.
About Movers.com:
Founded in 1994 and based in North Brunswick, NJ, Movers.com is a leading online relocation portal specializing in free, no-obligation moving quotes. Featuring nearly 1,000 how-to moving guides, instructional packing videos, and a network of hundreds of licensed moving companies, Movers.com has every moving need covered. The company is planning several future fundraising endeavors, including a nonprofit organization to donate iPads to students at Parsons Elementary, located in North Brunswick, NJ.