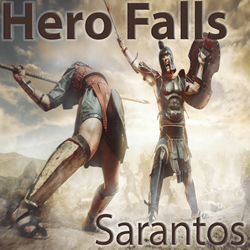 The odds are stacked against him. Yet, he goes anyway because duty calls and he is a man of honor!
Park Ridge, IL (PRWEB) June 07, 2016
Who doesn't love a good movie? One of Sarantos' biggest joys in life are movies. Whether it's a chance to watch one, write a screenplay or fantasize about being in one, movies are probably #2 on his master list of passions, of course right after music. Over the last year, Sarantos has started releasing instrumentals due to requests specifically for movies and TV shows. Sarantos thought it would be fun to work on a classic soundtrack type of song. The lyrics were inspired by movies of epic battle scenes with heroes and villains such as Star Wars, Indiana Jones, Gladiator and many more. Hero Falls was created one rainy night. Of course, Sarantos had to include a twist with double meanings - does the hero fall in battle, or in love? There are many possible interpretations as the climactic ending unfolds both vocally and musically.
"This is a very genuine song," says Sarantos. "It's a classic movie soundtrack song about a hero. The battle raged all day. He fights the good fight. When he makes it back to his wife, he can't help but fall in love. As the king spends the night in the comfort of his wife's arms, he realizes that he will fall if he goes back into battle tomorrow. The odds are stacked against him. Yet, he goes anyway because duty calls and he is a man of honor! I hope you enjoy it as much as I enjoyed writing it."
33% of any music-related sales profits from this song are going straight to Star Wars Force For Change. Philanthropy was very important to George Lucas — he used early screenings to raise money for charities around the world with a particular emphasis on children's healthcare and education. Star Wars fans have kept this spirit alive by volunteering their time to countless charities across the world and raising millions of dollars in donations.
Sarantos' unique sound has been best described by industry insiders as an "emotionally powerful vocal style masterfully united with music that is a fusion of classic '80s rock blended with modern soft rock and pop music."
Since 2014, Sarantos has won over 28 awards with Akademia LA Music and Beat 100, while also being nominated for the International Music & Entertainment Awards and the Hollywood Songwriting Awards. Even without ever using a professional music studio, label, ad agency or radio promoters, his songs "Dreamer" & "What If I Never See You Again" have spent many months in the top 200 on the majors list in the US for radio airplay, according to the Digital Radio Tracker Top 200 charts. On the independent charts, Sarantos has hit the top 10 twice.
*Because Sarantos wants his music shared throughout the world, fans can always find all of his songs, lyric sheets, videos and books on his website. He openly gives everyone the right to share his song MP3s with anyone they want via email or any social media platforms.
Fans can sign up for the email list to get the inside scoop first and exclusive content available nowhere else.
Facebook:
https://www.facebook.com/Sarantosmelogia
iTunes & Apple Connect:
http://bit.ly/SarantosAppleStore
Spotify: