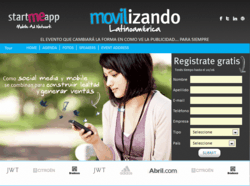 Through our 'Movilizando Latinoamérica' series, StartMeApp is sharing our knowledge and expertise with LatAm brands and agencies to help them reach and engage consumers with highly-relevant mobile ads.
Buenos Aires (PRWEB) July 11, 2013
Leading Latin American brand and agency executives attending today's "Movilizando Latinoamérica" advertising seminar in Buenos Aires learned why Latin America is becoming a focal point in the worldwide growth of mobile advertising and how brands and agency clients can leverage skyrocketing mobile usage to accurately and effectively engage with mobile consumers in their local markets and regionwide.
Attendees at StartMeApp's half-day "Movilizando Latinoamérica" seminar also learned of today's launch of StartMeApp's new self-service mobile advertising API, "adSmart Express", which lets advertisers themselves use StartMeApp's simple and intuitive adSmart Express user interface to quickly and efficiently generate, monitor and optimize their own mobile advertising campaigns anywhere in Latin America or around the globe.
Marketing and advertising executives from Argentina, as well as Chile, Uruguay, Paraguay and Peru signed up for today's Movilizando seminar, representing leading regional and global brands, such as Allianz, Despegar.com, Aerolíneas LAN, Agea, Grupo Peñaflor, Phillips, Telecom Personal, ESPN, Jumbo, Movistar, Gameloft, Red Bull, Terra Networks, Disney, Turner, Universal Music and others. Also in attendance were executives of leading global and LatAm regional advertising agencies, including JWT, Ogilvy, Havas Media, Global Mind, OMD, Universal McCann, Starcom MediaVest, Carat and more.
During StartMeApp's "Movilizando Latinoamérica" seminar, participants were shown in presentations and case studies how specific mobile ad campaign strategies can be tailored and successfully deployed to help meet the specific business and sales objectives of each and every type of business, brand or advertiser. StartMeApp's expert mobile advertising team demonstrated to brand and agency executives in attendance, the ways in which:

Large brands and mobile app owners leverage "Click to Download" campaigns to generate large numbers of app downloads, installs and app use by mobile consumers anywhere worldwide;
Service businesses and call center companies benefit from 'Click to Call' mobile ad campaigns, generating immediate interaction with potential clients and opening up a new sales channel to help drive business opportunities;
'Click to Play' video campaigns enable the creators of film, television programming and video ads to create dynamic interaction with viewers via the mobile channel;
'Lead Generation' mobile ad campaigns enable consumer brands to immediately increase their database of potential customers, generating real leads for follow-up by their sales representatives;
Content providers and VAS content aggregators use 'Click to Subscribe' mobile campaigns to generate thousands of new content subscribers, increase downloads and maximize ROI on their content inventory; and,
Social media mobile ad campaigns, including 'Click to Follow' on Twitter and 'Click to Fan' on Facebook, open a new channel of communications with the market, helping to grow brand awareness and build customer loyalty.
"Latin American brand, advertiser and agency executives may read and hear a lot in the news media about the coming mobile advertising revolution, but they often lack the real, tangible information they need to effectively incorporate the mobile channel into their advertising strategies," said Gaston Fonzo, Co-Managing Director, StartMeApp.
"Through our 'Movilizando Latinoamérica' seminar series, StartMeApp is helping to meet that need, sharing with LatAm brands and agencies our knowledge and expertise in global mobile advertising in order to help them reach and effectively engage consumers with highly-relevant mobile ads in their local and regional markets across Latin America," Fonzo said.
A global mobile ad network launched in 2011 in Buenos Aires, StartMeApp currently serves mobile ads in 100 countries across five continents and during 2012 delivered more than 50,000 mobile advertising campaigns worldwide, including tens of thousands of highly successful mobile ad campaigns in Argentina, Brasil, Chile and throughout Latin America.
StartMeApp works with leading brands, advertisers and agency clients around the world and its client roster includes such well-known global and regional corporate brands as: Audi, Allianz, Air France, Fox, Peugeot, Adidas, Microsoft, Maybelline, Claro, Despegar.com and others.
Currently delivering 10 billion ad impressions monthly across North and South America, Europe, Asia and Africa, StartMeApp is connected to all leading buy-side mobile ad networks and exchanges worldwide, as well as all major global sell-side providers of rich-media apps and mobile content, including carrier on portal audience, mobile web sites, WAP sites and applications traffic.
StartMeApp brand campaigns for advertising clients leverage the network's advanced ad-serving technologies and sophisticated targeting of content and mobile traffic, reaching mobile consumers anywhere in the world through a myriad combination of multiple targeting parameters that include location, device, carrier, operating system, ISP and more.
To learn more about StartMeApp and the mobile advertising opportunities available to its clients in Latin America and worldwide, visit http://www.StartMeApp.com.
An independent, privately owned global mobile advertising network, StartMeApp runs tens of thousands of effective brand and ad campaigns each year and serves mobile ads, apps and content in 100 countries across North and South America, Europe, Asia and Africa. Currently delivering 10 billion impressions monthly, StartMeApp's unique, high-frequency ad-serving platform fully integrates demand-side and supply-side functionalities to connect publishers, VAS providers and aggregators of mobile apps and content to all leading ad networks and exchanges worldwide, while providing brand advertisers and agencies access to global sources of high-quality, rich-media apps and content inventory, including carrier on-portal audience, mobile web sites, WAP sites and mobile applications traffic. For more information about StartMeApp, visit: http://StartMeApp.com.