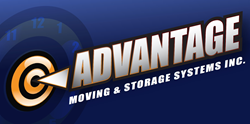 Bronx, NY (PRWEB) April 22, 2014
Advantage Moving and Storage is taking out the hassle and wasted time for the already busy New Yorkers by providing them with a simple and stress-free way to receive moving quotes. The moving company's new website uses Skype and FaceTime technology to provide quotes. Visitors to the site can now receive a friendly introduction and real-time quote in minutes.
The new website has a variety of special features, including a new moving calculator and Skype quote feature. The moving calculator helps customers know exactly how many men and how many hours they will need for their move. The Skype quote feature allows customers to speak to the online Skype specialist and get a quote in minutes.
Advantage Moving and Storage also provides moving tips on their website for interested customers. Customers can get a free quote at any time via phone, email, cell phone, etc. The company can also help customers learn the difference between an actual quote and a low-ball quote.
To learn more about Advantage Moving and Storage and to check out their new website, visit http://www.advantagemoving.com/.
About the company:
Advantage Moving & Storage Inc., the premier moving company in New York City, handles all moving jobs professionally from resident moves of studio apartments to commercial moves of large corporations. Their services include local, intrastate, interstate and international moving. Their proven track record as an affordable New York City mover guarantees a seamless, stress-free relocation for even the most complicated of moves.
Advantage Moving and Storage is a dependable local New York mover specializing in hourly and flat-rate moving quotes to meet all moving needs. City to city, state to state, or country to country, they have more than 50 years of experience and will handle all moves professionally and with care. Their rates are highly competitive and estimations will go the extra mile making sure all of their customers know precisely what type of service and pricing to expect at all times.