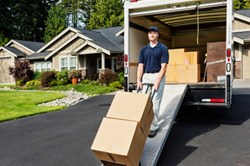 For those who refer a friend or relative will get as much as 5-10% off their next move, and now seniors and single parents will receive 10% off.
North York, ON (PRWEB) November 13, 2013
Moving Without Borders – the name says it all.
While there are no borders for this moving company, they are now taking things one step further to prove that there are few boundaries in services and deals they offer residents and businesses of North York.
This popular local moving company has announced some new and exciting deals for 2013 and 2014.
Its move – no pun intended - now solidifies them as a unique and innovative moving company in North York. They've always been ahead of the times, and today's announcement marks a unique chapter in the company's growth.
Moving Without Borders is pleased to announce they are offering an all-in-one moving service for clients. Whether clients require residential moving services, commercial moving services, packing materials, packing services, storage, furniture dismantling and reassembly services and even 24/7/365-emergency moving services, or all services combined, they will ensure each move is sane and hassle free. For them, there is no other way.
"We have learned first-hand from many people here in North York that they want more choices when it comes to their moving needs," says Shavkat Khadjaev of Moving Without Borders.
"Our all-in-one moving service, which is very efficient and cost effective, and competitive on many levels, will no doubt be a big hit and we want to go the distance and accommodate the needs and new demands from our clients. Our effort in offering our all-in-one moving package simply demonstrates that we are leaders and we will take the stress off at moving time. We want all our clients to sit back and enjoy the move. Let us do all the hard work."
With over 50 years of exemplary experience in North York and Toronto and loyalty to its clients, the company only continues to grow. Major retailers like IKEA and The Brick rely heavily on them to move furniture and major appliances. They are also well-known for corporate and commercial moves.
On the residential side, Moving Without Borders has made a real name for itself. For years they have been moving homes, condos, apartments and townhomes in North York and beyond.
The company's new deals 'will move people.'
For those who refer a friend or relative will get as much as 5-10% off their next move, and now seniors and single parents will receive 10% off.
The student moving special now includes 5-10% off, and for those moving on the second or third week of each month will receive 10% off their booking.
Go ahead, be moved. And get moving with Moving Without Borders.
In order to learn more and to obtain a quote, call Moving Without Borders today and get a free-on-site quote.
Phone: (647) 328-0008
Visit us online and get a free quote: http://www.moving-wb.ca.