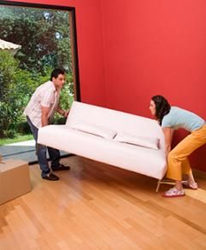 (PRWEB) November 27, 2013
Melrose Moving Company has released a blog explaining how to move a couch or sofa in Van Nuys and nearby cities.
Couches and sofas require special attention during a move as they are expensive and fragile items which can be easily damaged during transportation. Preparing a couch or sofa for a move takes a lot of patience and good organization.
Van Nuys movers offer numerous and important tips on how to pack and move a couch or sofa. Clients should read the simple guide as it will help them save time and protect their valuables.
The first thing clients should do is prepare their couch or sofa for a move. This means that they have to clean the objects but the floor too. Also, a path has to be cleared from the sofa to the exit so that it can be easily moved and loaded into the truck. These preliminary preparations are essentials as they can save clients a lot of time.
If possible, it is best to dismantle the sofa so that it becomes lighter and easier to maneuver. The legs, mattresses and pillows should be removed and packed separately. If clients manage to remove pillows and mattresses, they have to wrap them in protective materials like shrink wrap and pack them into secure boxes.
If the couch or sofa cannot be dismantled, important steps for its protection have to be taken. One of the greatest dangers to a sofa or couch is dust. Dust can infiltrate the mattress which will require many washings before it can be clean again.
A professional moving team from Van Nuys can be really helpful during a residential relocation. Professional movers can assist people with packing couches and sofas as well as transporting their valuables to the new destination.
"Movers in Van Nuys offers professional packing services at affordable prices! Clients who want to save time and money during a relocation, should call them!" said Russell Rabichev, Marketing Director for Melrose Moving.
Melrose Moving Company is a Los Angeles-based residential and commercial moving company. Originally established in 1999, and has been so popular that the owner started various other moving companies, such as 1 Los Angeles Movers, Movers Los Angeles, and Los Angeles Commercial Movers, all of which are operated by Melrose Moving. The moving company is licensed by the Public Utility Commission (PUC), and has an A rating with the Better Business Bureau (BBB). Melrose Moving accepts cash, checks, credit cards, and Paypal.
For more information, click on http://www.vannuysmovingcompany.com. Call now: 1.800.431.3920.