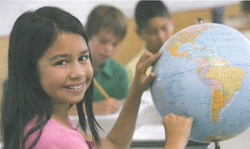 The best feature about ClickandMove is that you can save your inventory if you don't complete it; therefore if something unexpected comes up, your inventory will not be lost.
seattle (PRWEB) September 24, 2013
Now that the kids are back in school and families are starting to get back into routine, it's a perfect time for parents to start planning future moves. Moving children is a stressful process; there are countless things parents need to take into consideration, therefore planning ahead is key. ClickandMove offers a convenient service to accommodate the on-the-run parent who doesn't necessarily have a structured schedule because they're busy chasing around kids.
Whether it is dentist appointments, swimming or baseball, the time parents get to sit down and relax is limited. ClickandMove offers a consumer award winning application which automatically generates an online inventory of all the items a family wishes to move. After the inventory is generated, it is sent to an American Moving and Storage Association (AMSA) member. The best feature about ClickandMove is being able to save the moving inventory if it's not completed; therefore, if something unexpected comes up, the inventory will not be lost.
Moving in general is a stressful process. Moving with kids, now that's a different level of stress. ClickandMove offers the following tips to make moving with children go smoothly:

Discuss with your children why the family is moving, what the new home will be like, and address any hesitations the children may have.
Label all boxes with the contents. This will be helpful if anything needs to be desperately found during the move. Be thorough, there is nothing worse than sorting through multiple unmarked boxes to find a beloved children's teddy bear.
Contact the children's school to inform them of the address change. If your children are changing schools, contact administration to make sure all the proper documents are sent to the new school.
Pre-make an activity bag to entertain the kids during moving day. Include items that they are emotionally attached to, this will make them feel a sense of familiarity.
Reach out to family members and see if anyone is available to take care of the children on moving day. This way, you can focus on the move and be assured the children are not overwhelmed with the moving process.
Try and facilitate the move during the children's summer, this way, their academics will not be disrupted.