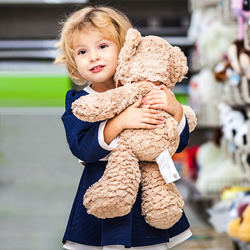 We really hope people see the importance of coming out and putting smiles on these kids' faces. Any parent who has watched their kid light up when they unwrap a present can attest that it matters. -Maximillian Diez, Director of Real Estate Operations
FRESNO, Calif. (PRWEB) December 09, 2016
The holidays are about giving and goodwill, but for the many homes across Fresno and Clovis living below the poverty line, there aren't any gifts to unwrap this holiday season. In continuing Movoto Real Estate's mission to make every house in Fresno and Clovis truly a home, they have partnered with Toys"R"Us to hold a toy drive. All toys and donations will go to the Marine Toys for Tots Foundation, whose mission is to deliver toys to less fortunate children every holiday.
"After the huge success of our Thanksgiving Food Drive, we were really driven to do more for the Fresno and Clovis community. Food is a basic human need, but feeding a child's sense of wonder is equally important," said Cynthia Countouris, Movoto's Head of Marketing. "It gives them hope. It brings them happiness. That's such a huge key to motivating them to be creative, ambitious, and work hard for a better future. We're really hoping that others will recognize just what an impact a simple toy can have on a child's mindset, particularly during the holidays."
"My team and I are excited to be able to partner with Movoto and assist the Toys for Tots campaign in promoting their cause of delivering joy to children in need," said Fresno Toys"R"Us manager Joe Muenzenberger.
And there is no shortage of homes in Fresno and Clovis that need support this season. According to Children Now's 2016-17 California County Scorecard of Children's Well-Being, of the 280,951 children between the ages of 0 and 17 in Fresno County, 39 percent of them live in poverty (the federal poverty line is an annual income of $24,300 a year for a family of four). That's a significant deviation from 23 percent in the state of California and 21 percent in the US.
It doesn't stop there. Forty-seven percent of Fresno County children live in concentrated poverty, the highest percentage in California. And only 36 percent of homes said they could afford basic living expenses. For the 64 percent of homes that can't, holiday gifts are not an option.
"I think the general thought process is that food and shelter come first, so people rank it much higher than donating toys," said Movoto's Director of Real Estate Operations, Maximillian Diez. "But for a child who hasn't been able to experience gift giving during the holidays when all they see—on TV, in the movies—is other children opening gifts, it's really demoralizing and a hit to their self esteem. These experiences make a lasting impression at such a young age."
To make a difference for the thousands of children who can't afford presents this holiday season, Movoto needs the Fresno and Clovis community's help. On December 10 and 11, they will have booths set up outside the two Toys"R"Us locations in Fresno and Clovis where they will be collecting toys and cash donations. All proceeds will go directly to Toys for Tots of Fresno.
"I really hope people see the importance of coming out and putting smiles on these kids' faces," Diez continued. "Any parent who has watched their kid light up when they unwrap a present can attest to this—it matters. As a father myself, seeing the happiness on my daughter's face when she opens her gifts makes standing in line for an hour to buy it completely worth it."
Toy Drive Locations:
Fresno - 3520 W Shaw Ave
Clovis - 1425 Shaw Ave
About Movoto Real Estate
Movoto Real Estate was founded on a simple principle: Selling and buying real estate is too complicated. That's why Movoto has dedicated over a decade to simplifying it. From humble beginnings as a three-person startup in 2005, the company has grown to become the second largest online real estate company in the US.
With the backing of Recruit Holdings, owner of the largest real estate portal in Japan, Movoto has developed a real estate network of over 3,500 agents across all 50 states. Movoto was selected four years in a row for Inc. Magazine's 500|5000, an exclusive ranking of the nation's fastest growing private companies. Join the over 26,000 clients who have trusted Movoto agents with buying or selling their home and the over 50 million people who searched for homes on Movoto in 2015. Learn more at movoto.com.
About Toys"R"Us
Toys"R"Us, Inc. is the world's leading dedicated toy and baby products retailer, offering a differentiated shopping experience through its family of brands. Merchandise is sold in 875 Toys"R"Us and Babies"R"Us stores in the United States, Puerto Rico and Guam, and in more than 765 international stores and over 245 licensed stores in 37 countries and jurisdictions. With its strong portfolio of e-commerce sites including Toysrus.com and Babiesrus.com, the company provides shoppers with a broad online selection of distinctive toy and baby products. Toys"R"Us, Inc. is headquartered in Wayne, NJ, and has an annual workforce of approximately 62,000 employees worldwide. The company is committed to serving its communities as a caring and reputable neighbor through programs dedicated to keeping kids safe and helping them in times of need. For more information, visit Toysrusinc.com or follow @ToysRUsNews on Twitter. Follow Toys"R"Us and Babies"R"Us on Facebook at Facebook.com/Toysrus and Facebook.com/Babiesrus and on Twitter at Twitter.com/Toysrus and Twitter.com/Babiesrus.
About the Marine Toys for Tots Foundation
The Marine Toys for Tots Foundation is a not-for-profit organization authorized by the U.S. Marine Corps to provide fundraising and other necessary support for the annual U.S. Marine Corps Reserve Toys for Tots Program. Now in its 69th year, Toys for Tots provides joy and a message of hope to less fortunate children through the gift of a new toy and a book during the Christmas holiday season. For more information, visit toysfortots.org.