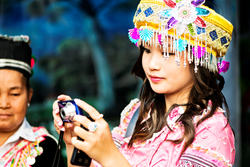 It's such a vibrant, high-energy event, and we couldn't be more thrilled to be a part of it.
Fresno, Calif. (PRWEB) December 23, 2016
The Fresno metro area has the second largest Hmong population in the US, second only to Minneapolis, MN. Movoto Real Estate celebrates the diversity of the Fresno and Clovis community. That's why they're partnering with the Hmong TV Network News Center and Hmong International New Year, a non-profit dedicated to preserving Hmong culture and celebrating the Hmong New Year, to help ring in 2017.
"New year celebrations are huge in the Hmong community—it's the biggest holiday of the year. They have so many colorful, fun traditions that go along with it and it's great to be able to share that with all of the Fresno and Clovis people," said Julie Fulcher, Movoto's Fresno Area Manager. "We're so excited to be able to take part in this amazing celebration and connect with the Hmong community here."
Join Movoto at the Hmong New Year Celebration every day from December 26 to January 1 between 8 a.m. and 5 p.m. where they will be hosting a booth (booth number 124 located right next to the Hmong TV Network News Center booth) with fun prizes for everyone plus a chance to win an Apple iPad Pro. The event, taking place at the Big Fresno Fairgrounds, will feature singing and dancing competitions, live performances, a Miss Hmong beauty pageant, and over 600 vendors serving food and drinks and selling merchandise.
"It's such a vibrant, high-energy event, and we couldn't be more thrilled to be a part of it," said Maximillian Diez, Movoto's Director of Real Estate Operations. "To become the most trusted real estate brokerage in Fresno and Clovis, it's about more than buying and selling homes—it's about connecting with the community. The Hmong bring so much of their lively culture to the area and are an invaluable part of what makes Fresno and Clovis such a diverse, welcoming place. We're honored to be part of such a huge event."
Diez continued, "Partnering with Hmong TV Network's News Center makes this event even more exciting. We have a fantastic place right next to their booth where we can meet the most people and really be in the middle of the Hmong New Year experience."
"We're always excited about reaching out to the community," said Ying Fang, President of Hmong TV Network. "Partnering with Movoto at such a huge event for the Hmong people is a great way to connect and help keep our vibrant culture alive."
The 2016 event is expected to draw over 100,000 attendees from the Central Valley and beyond. Its aim is to keep the rich Hmong culture alive. They also offer support to local youth and educational programs, offer venues where Hmong musicians and artists can display their talent, promote unity within the diverse community, and provide support for the Hmong community in Fresno.
About Movoto Real Estate
Movoto Real Estate was founded on a simple principle: Selling and buying real estate is too complicated. That's why Movoto has dedicated over a decade to simplifying it. From humble beginnings as a three-person startup in 2005, the company has grown to become the second largest online real estate company in the US.
With the backing of Recruit Holdings, owner of the largest real estate portal in Japan, Movoto has developed a real estate network of over 3,500 agents across all 50 states. Movoto was selected four years in a row for Inc. Magazine's 500|5000, an exclusive ranking of the nation's fastest growing private companies. Join the over 26,000 clients who have trusted Movoto agents with buying or selling their home and the over 50 million people who searched for homes on Movoto in 2015. Learn more at movoto.com.
About Hmong International New Year
Hmong International New Year is a non-profit organization that was founded in 1999 to host the annual Hmong New Year Celebration in Fresno, CA. Their primary goal is to provide a venue for the local and international Hmong community to gather for the new year celebration. For more information, visit hinyf.org.
About Hmong TV Network News Center
Hmong TV Network is a television station serving the California Central Valley on channel 32.6. We are the first television station to broadcast news, shows, and live events in the Hmong language. We are dedicated to reaching out to the Hmong community to improve business and preserve the Hmong culture. To get more information on how we can help you reach a new market for your products and services, visit our website hmongtvnetwork.com.